So. Hmm. That last post was a little misunderstood, I think.
Let me clarify. I'm not saying I don't indulge in life's luxuries. My husband and I didn't choose to live frugally so we could sit in an empty room counting all of the money we've saved. We chose to life frugally, count every penny, and save when we can so we can afford some of life's luxuries without putting ourselves into debt.
Case in point: Last May, after saving for three years, we finally took our vacation to Europe. We had a blast (despite the fact that I was 10-12 weeks pregnant and suffering the worst of my morning sickness). But I wouldn't trade the trip for the world.
Did we need to go to Europe? Absolutely not. We wanted to take the trip, saved diligently, and paid cash. I'm so glad we worked so hard to save, and we'll remember the trip for the rest of our lives. In my last post, I wasn't saying that we should only ever spend money on necessities. I just think it's important to recognize which luxuries we choose to spend money on, and draw a clear line between what's necessary and what's nice to have.
I've spent the last couple days editing photos (finally), I can finally share the pictures with you! I'm not looking my best, unfortunately, as I was quite ill. But there are lots of pretty buildings and scenery.
The photo below is us at the top of Notre Dame in Paris. Somewhere behind Tony's head is the Eiffel Tower. Unfortunately, the tourist who snapped the picture for us didn't tell him. Boo.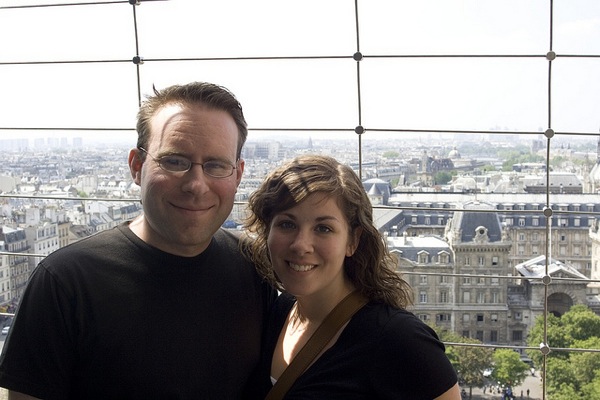 Click here for the slide show. Happy Wednesday!