After spending the weekend really thinking about my priorities as far as time management goes, I made the decision that decluttering our space should be close to the top of the list this summer. We keep our living areas pretty tidy (most of the time), but behind closed doors, I've let clutter take over. There's really no excuse for it since we've barely lived in this house a year. I shudder to think how bad it will be in 5 years if we don't start tackling it now.
In a burst of motivation on Sunday, I decided to start with our laundry room. I jumped at the chance to take advantage of it during Judah's afternoon nap so quickly that I completely forgot to shoot a before picture. It's not that I'm embarrassed to show you what it looked like (well, I am, but I'm willing to do it). I honestly just forgot. Doh. Rest assured, I will remind myself to snap that before picture for future projects.
Since it's a tiny room, it only took me a little over an hour to whip it into shape. While we were in the process of painting our house, we let the shelf behind the washer and dryer turn into a depository for paint supplies. Months later, it was still crammed with paint cans, brushes, and old towels we'd used to clean up. It was crammed so high with junk that it fell over onto the dryer about once a week. So we picked up all the paint supplies, and relegated them to an unused cabinet in the garage.
Next to the sink, I'd saved a ton of used plastic bags (they fit our bathroom trash cans perfectly, so we reuse them as garbage bags) as well as some broken down diaper boxes that I was convinced I could repurpose. I recycled most of the diaper boxes and crammed the plastic bags into a reusable bag, which I hung from the hook I used to use for my cloth diaper wet bag. (We switched to disposables full time a few months ago when cloth diapering a toddler just became too gross.)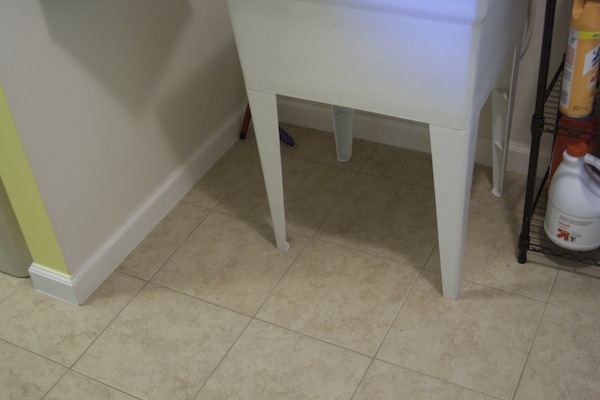 Speaking of cloth diapering, I still had a laundry basket full of diapers taking up space in the laundry room. Since I plan to use them again someday when Judah has a little brother or sister, I packed them up in a couple of those diaper boxes and packed them away in storage.
I also gave the shelf we use for cleaning supplies some attention. Everything was stuffed on there with no method to the madness, and there were more than a few empty bottles even. So I rinsed and tossed the empty bottles into the recycling bin, and then organized the shelves — laundry stuff on top since we use it most, cleaning supplies in the middle, and rarely used or bulky items on the bottom shelf. It's much easy to find what I need now.
The laundry room is between the kitchen and the den. Both the laundry room and the den are blocked by a gate, so Judah can't get back there for now. I hate that the laundry room is open to view, though. Since we moved in, I've wanted to hang a curtain across the doorway to make our laundry room a little more private. Since this little reorganization cost $0, I finally went ahead and picked up the curtain and rod. It's just a $20 curtain panel secured to the doorway with a $5 tension rod (it's actually a shower curtain rod). I'm pretty happy with how it separates the utility room from the den and keeps our "dirty laundry" out of view — especially since it cost only $25.
Is there a room that's been driving you nuts? There's no better time to tackle it than today! This whole endeavor only took a little over an hour. I'm kicking myself for not doing it sooner, especially since it's was so cheap and easy. Sometimes all a room needs is a little spiffing up, and it feels like a whole new space.