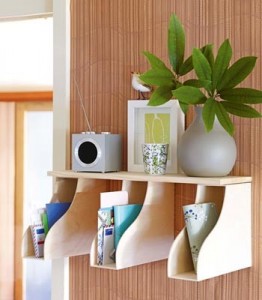 It seems like I'm always battling clutter of some kind. Papers stacked up on the table and desks; boxes of stuff I've been meaning to sell or donate for months; junk mail; random things that don't have a place, so they just sit out in the open driving me nuts. When my environment is cluttered, even simple tasks can feel overwhelming. With the holidays fast approaching, I'm craving some peace and tranquility. So I've been working on getting the worst of my clutter under control.
Here are a few problems I'm looking to solve. Some of them are easy — I just have to motivate myself to do it already. Some of them require some creativity, and I'd love to hear your suggestions.
Get paper clutter under control.
I think most of us struggle with paper clutter to some degree, but our problem is pretty extreme. At any given time, my English professor husband is buried under 50-200 student essays and papers. When they overrun his desk, they end up on the kitchen table, the coffee table, and even the living room floor.
Thankfully, he's mindful of how crazy this drives me, so he only scatters essays when he's in the process of grading them, and he puts them away when he takes a break. But with so much necessary paper around, I feel more sensitive about the unnecessary paper. Junk mail, old bills, coupons, magazines, and other junk stack up and make everything seem less tidy. Here are a few strategies I'm trying to employ to get it under control:
Deal with junk mail immediately. It's easier said than done, but I need to start sorting mail immediately when it comes into the house and putting junk straight into the recycling bin. I have enough paper to sort without making things worse by keeping junk around.
Create a paper sorting station. As much as I hate it, there is a certain amount of paper I have to keep around at least for a while. I need some sort of solution for sorting and organizing it so I can keep it off my kitchen table. I've seen lots of options on Pinterest, and I'm trying to figure out the best way to handle it. If I keep things sorted, it will make it less complicated to organize it and keep it under control.
Go paperless when possible. I pay all of my bills online, and I don't have any real use for paper bills. Just like the marketing emails, I need to be proactive about eliminating this paper clutter completely. In the coming weeks, I'm going to start signing up for paperless billing for every bill I possibly can.
Unsubscribe from marketing emails.
Judah is almost one year old, and I still receive annoying pregnancy-related newsletters in my email inbox. I also receive newsletters for stores where I have no interest in shopping. It's overwhelming to wake up to 50 new email messages, and 45 of them are junk. Plus I'm always afraid I'm going to miss something important, because it's buried in the junk. I'm resolving to hit "unsubscribe" on marketing mail that doesn't interest me rather than just putting it off by deleting it.
Tidy up.
I've gotten a lot better about this in the past few weeks, and it's done wonders for my sanity. I deep clean the house once a week, and I take a few minutes three times a day to keep it tidy. It's simple enough to walk through the house and put things where they belong a few times a day, and it makes the house feel clean throughout the week even though I don't have time to clean intensively. I also do the dishes three times a day instead of once in the evening, which seems to help me feel more organized.
Just do it.
We have things laying around the house that we've been planning to do something about for months or even years. There are items that we've moved three or four times that we never use. Every time I see them, I think, "I need to donate or sell that." But then it gets shoved into a closet or under a bed, and I put off dealing with it for another 6 months. I need to suck it up and take care of that stuff already. All it does is take up space.
What strategies do you use for conquering clutter?