Tony and I are spending spring break painting, reorganizing, and assembling IKEA furniture (yikes!). I can't wait to share our progress with you. In the meantime, I'm sharing a post from the archives that was originally published in July 2009. If you're feeling the itch to move, try these tips to make your old place feel new again.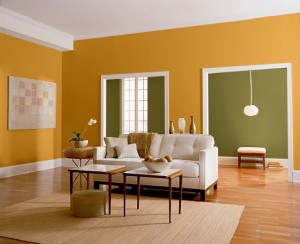 Maybe it's a side effect from my college years when I moved into a new apartment every year, but I still get the urge to pick up and move every August. I hate moving, but I love the feeling of starting fresh — decorating, organizing, and waking up in a completely new place.
But moving tops my list for biggest hassles. On top of packing and physically lugging your belongings to a new place, moving is expensive, time consuming, and jarring.
This August is our third in the same apartment. Every year I've battled my urge to find a new place with these tricks:
Clean. I mean, really clean.
One of my favorite parts about moving into a new place is that all of those nooks and crannies are freshly dusted and cleaned. This month, instead of cleaning just what you can see, invest some time and elbow grease into cleaning your place as if you're moving. Vacuum under furniture, remove everything from the shelves and closets to dust, and scrub the walls and baseboards.
Purge and reorganize.
I hate the process of getting rid of stuff before a move, but I love that when I move into my new place everything is freshly organized and I'm temporarily not overburdened with stuff. It's hard to motivate yourself to purge and organize when a move isn't looming, but clearing your closets and drawers and ridding yourself of the clutter will recreate that freshly organized feeling after moving into a new place.
Paint.
Painting isn't just an easy way to breathe new life into a living space; it also goes a long way to making your place feel cleaner. Your walls may be looking dingy after years or months without fresh paint, not to mention you're probably sick of looking at the same neutral shade. Check with your landlord if you're renting and see if you can repaint to clean up your space and give it a new look. Consider adding color to one wall to give the room depth and an interesting focal point.
Hit the end-of-summer yard sales.
Now that you've gotten rid of some clutter, check out the summer yard sales near you to find some new decorative pieces or fun new furniture. Don't overlook furniture that's worn or hideously colored. Look at the shape and sturdiness of the piece, and remember that a bit of sanding, new paint, and knobs can turn an ugly antique into a modern, functional addition to your space.
Rearrange your furniture.
Giving your room a new layout is the quickest, easiest way to redecorate. Flip the rooms into a new configuration, move furniture you've been tripping over, and add that funky antique table you picked up at the yard sale. You'll feel like you're in a brand new place without going through the hassle and expense of moving.
Photo credit: Lynie