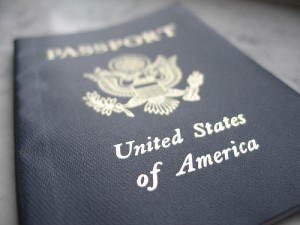 We're setting sail for our cruise to the Bahamas in 44 days, which means we'll need our passports much sooner than we originally anticipated for our trip to Europe in May. I already planned to take care of that this month, but booking our cruise really pushed me to do it sooner rather than later.
Week before last, we put together all of our documents and headed to the passport application office on Tony's campus (you can search for the office nearest you here). I was really nervous about all the hoops we'd have to jump through, but I was pleasantly surprised to discover that it wasn't that difficult. The whole process took about an hour and a half, and I was able to do it on my lunch hour. We filled out the application in the office and had our photos taken there, too. You could cut your time in the office significantly by filling out the paperwork ahead of time and bringing in your photos.
If you're dreading your passport application process for an upcoming trip, keep these things in mind.
It takes 6-8 weeks to process your application.
If you're planning to apply for a passport, I'm sure you already know this, but it's really important to keep in mind. I didn't think about the timeframe until after I booked our cruise, but luckily we were still able to get our applications in 8 weeks before our cruise. We're cutting it close, but I'm optimistic that it will be okay. If you can't wait 6-8 weeks, you can apply for expedited processing with a 2-week turnaround, but you'll have to pay an additional $60 and cover the cost of 2-day delivery.
Bring your certified birth certificate.
You'll need a certified state ID or driver's license and your birth certificate. Some hospitals issue a "certificate of birth," but you'll need a certified copy from your county, city, or state to apply for a passport. Look for a notary stamp and a signature from a county or city official to be sure. Also, you'll have to send the original copy with your application. They'll send it back to you when they're finished processing your application, but be prepared to be without your birth certificate for a couple months.
You'll need a 2″ x 2″ headshot.
You can have passport photos taken at many drugstores and photo processing locations. Passport photo regulations require that the photo be recent and in color with a plain white or light-colored background. If you're in a hurry, choose a passport application agency that will take the photos for you. We paid $8 each to have our photos taken at the office, which is comparable to prices I saw at drugstores.
To save time, fill out the paperwork ahead of time.
You can fill out the passport application ahead of time and bring your completed application to the office. I wish we'd done this, because I made a mistake on mine in ink and ended up filling it out twice.
Bring a check or money order.
The total cost for each passport was $100, but it doesn't all go to the same place: $75 goes to the U.S. Department of State and $25 goes to the application agency for processing fees. The $75 passport fee is payable to the U.S. Department of State and sent along with your application, so it must be paid in check or money order. You must have a separate check or money order for each application. The passport agency allowed us to pay the processing and photo fees in one lump sum on a credit or debit card. If you use an online bank that doesn't offer paper checks (like ING), you can get a money order at the Post Office for a fee of $1.10.
Track your application.
About a week after you apply, you'll be able to track the status of your passport online.
Overall, the process wasn't as difficult as I expected. Cross your fingers that we'll get our passports with plenty of time to spare!