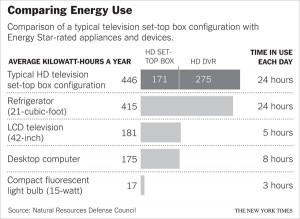 What's the biggest electricity drain in the United States? Refrigerators that run non-stop? HD televisions? Nope. According to a story in the New York Times on Sunday, it's your cable box.
These set-top boxes are energy hogs mostly because their drives, tuners and other components are generally running full tilt, or nearly so, 24 hours a day, even when not in active use. The recent study, by the Natural Resources Defense Council, concluded that the boxes consumed $3 billion in electricity per year in the United States — and that 66 percent of that power is wasted when no one is watching and shows are not being recorded. That is more power than the state of Maryland uses over 12 months.
Because they're constantly connected to the network and receiving updates, set-top cable boxes continue to suck energy even when they're turned "off." The only way to stop the drain is to unplug the box entirely.
Unplugging the box may create a slight lag when you're ready to watch television again, but it could save you as much as $10 a month. At the very least, it's essential that you unplug the box if you're leaving for vacation. There's no sense spending money and wasting energy on something you're not even using.