For the record: I am not being compensated in any way by Netflix, PlayStation, or anyone else to write this post. I am just sharing our setup, and I welcome your tips and recommendations in the comments for how you get around paying a cable bill.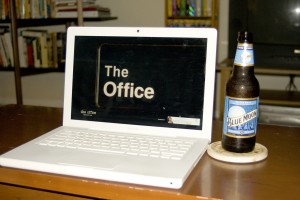 Once upon a time, cable television was one of our only planned indulgences. We knew it was expensive, but we liked it. We thought it saved us money by keeping up entertained at home, and we liked having something to watch in the evening.
In September, we finally cut the cable, and we cut $60 out of our monthly entertainment budget. Around Christmas time, our future brother-in-law gifted us a Playstation 3 that he wasn't using, which enabled us to stream Netflix to our television. Using a simple rabbit ear antenna, our television picks up all of the network stations in perfect digital HD. Now there is very little we could get from cable that we're not getting from our current setup.
Current television shows
For our favorite TV shows that are currently on the air, we have two options. Sometimes if we're home at the right time and we're not busy, we just tune in live. We're busy, though, and we're reformed DVR addicts. So what do we do if we miss the network broadcast of 30 Rock or Lost? We stream it on Hulu or the network's website whenever we want to watch it.
TV on DVD
One of our favorite things about Netflix Instant Play is that we've been able to catch up on TV shows we never watched. For instance, after listening to the hype about "Lost" for years, we discovered that all six previous seasons were available on Netflix in December. Beginning around Christmas and continuing until February, we caught up on all six seasons in a few months. Bonus? No annoying cliff hangers.
Movies
For movies, we have also two options: Netflix Instant Play, which offers a huge list of movie and TV show options, or Netflix by mail, which is where we get newer releases. If we decide to watch a new release at the spur of the moment, there's always Redbox.
If you're considering kicking cable, I promise: you will not miss it. Thanks to all of the entertainment technology available today, you have plenty of options to keep yourself entertained.
Netflix Instant Play is also available on XBox and (soon) Wii. If you're not a gamer, or you don't want to drop a few hundred dollars on a video game console, you could also get a Roku player for $100. It will work the same as a video game console for streaming movies, but you won't have the option to play games.