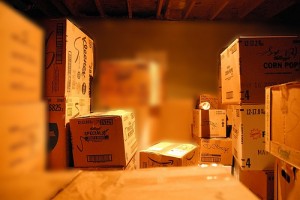 After months of counting the days, we're finally in the homestretch. We're moving in about 32 days, and five days after that we'll be boarding a plane to Europe!
I wish I could say the months have flown by quickly, but honestly? There were times when I felt like we'd never get here. My hope is that with everything that's going on right now, the next few weeks will pass quickly.
I keep feeling like I should be doing something to prepare for Europe, but all of it is finished. There's nothing left to do but pack our bags and board the plane.
Moving preparations are a completely different story. Oy.
I haven't begun to pack. I haven't even begun to purge. But my biggest problem right now is our apartment.
After posting on Craigslist twice, I've had two people show interest in subletting our apartment. After a week each of negotiating, waiting for applications, and crossing my fingers, they both backed out. Two weeks later, and I still don't have a subletter.
Someone came to view it over the weekend, and she was very interested, but she said the price to renew once the subleasing contract is up was out of her range. Even though I dropped the rent slightly, she'll have to pay full price if she chooses to stay here beyond the end of my lease. I'm hoping she'll decide to take it, but I don't know.
If she does want to move in, we'll probably have to bump our move out day up a week to May 1. That means I won't have the week off work I planned to use packing and preparing. I'm not ready to think about that yet, so I'll just wait and see what happens.
Just four weeks to go before the next chapter begins! I'm just hoping they go smoothly.