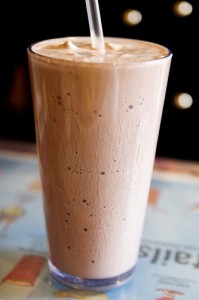 One of my favorite indulgences is the Starbucks Banana Chocolate Vivanno. Sadly, I no longer live near a Starbucks (probably a good thing since my frequent cravings would lead me to drink lethal amounts of decaf and cost us a fortune).
The good news is I stumbled across this recipe in Real Simple magazine a few months ago. (I can't find a link, but I know it was in the magazine, maybe in March?). It's so simple, absolutely delicious, and it tastes just like the Banana Chocolate Vivanno for a fraction of the price.
For two servings:
1 1/2 cups milk
2 tablespoons cocoa powder
1 banana
1 cup ice
Blend until smooth.
To really mimic Starbucks, add some coffee or espresso, but you'd have to experiment with the flavor to get it right. Tony and I add vanilla yogurt to thicken it up. You could also add powdered protein or fiber to give it a little more nutritional punch.
I think this may be the official drink of my pregnancy.