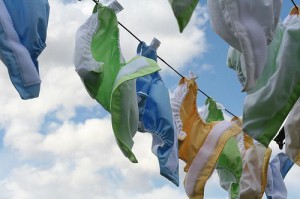 This weekend, Tony and I started the arduous process of baby shopping. Our families are kindly planning a couple of baby showers, which means we should have a little help when it comes to acquiring what we'll need, but I was still hoping to keep things to a minimum. We are living in an apartment, after all, and we'll eventually have to move all this stuff.
So Sunday morning I began pouring over all of the baby checklists available and trying to decide what exactly I needed to have, and what I wanted to have. I finally condensed it to a list of essentials — for now anyway. I'll be breastfeeding and cloth diapering, so our feeding and diapering needs will change as the baby grows.
We also made the decision to start with an infant car seat that doubles as a carrier since he'll be born in the early winter. It's true that convertible car seats will hold the baby for longer, but the thought of waking a sleeping baby to carry him out into the cold in the middle of January does not appeal to me. So we'll worry about getting him a new seat when he hits the weight limit. For now, I'm focusing on getting us through the first year (or so).
There are some items that I'm not sure I even want, but I've been urged by many moms to suck it up and get them (ahem, I'm looking at you bulky, space-eating stroller). Two of the biggest items, the crib and the car seat, have been promised as gifts from our parents, so registering involved choosing a lot of little stuff.
All of this shopping is fun, but overwhelming. It may not seem like a lot to moms who've spent the past year (or several) acquiring baby things, but it sure does look like a lot of new stuff to someone who's starting from zero.
Despite all that, I'm looking forward to actually getting some of it. This baby feels more real every day (especially now that I can feel him bopping around in there), and I can't wait to get his room all set up and ready for him to come home.
Here's the list I brought with me to the stores. I was intentionally vague about things like clothing. It seems every time we see our parents, they've bought some new clothing item for the baby, and we're guilty of picking cute things up here and there when we see them. I suspect this will only get worse now that we know it's a boy, and it will probably get even worse in the fall when stores begin carrying warmer baby clothes. So I don't think we'll have to worry about the baby running around naked for at least the first, oh, 8 years.
Big stuff
Crib
Pack and play
Infant car seat
Stroller
Swing
Baby carrier/sling
Bassinet (donated second-hand from my sister)
Bedding
Crib mattress
Quilted mattress pad
Waterproof mattress covers
Crib sheets
Receiving blankets
Feeding
Bottles
Pump (currently seeking suggestions for a good one under $100.)
Burp cloths
Bathing
Baby wash
Washcloths
Nail clippers
Diapering
Diaper covers (4)
Prefold diapers (24)
All-in-one/pocket diapers (12)
Cloth wipes (24)
Diaper bag
Diaper pail
Clothing
Sleep sacks/swaddlers
Onesies
Pants
Socks
Snowsuit/coat
Now it's your turn. What did you find indispensable in the first year of your baby's life?