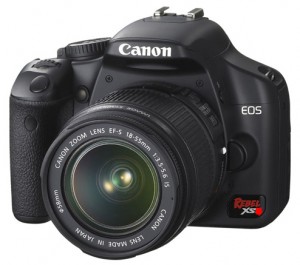 Last weekend, I made a huge purchase. I bought a camera that cost almost a whole paycheck. Yikes.
We've been thinking about it and saving for months. I planned to wait until we saved enough, but I realized that I could buy it now with the money I've earned from this here blog (thanks for reading!) in addition to my savings. We felt ready to make the purchase. We thought it through, researched, and decided to finally take the leap.
Despite all of this, I still woke up last night in a cold sweat. We spent $750 on a camera. Holy cow. I thought about all of the things we could do with that money, especially since we're still saving for our emergency fund and Europe and moving and eventually a house.
I calmed down when I reminded myself of all the steps we took to ensure this was a good purchase:
Ask yourself why you want it and what it will add to your life.
If you don't need the item, then think about why you want it. I love to take photos, and they'll be even more important when we have a baby. We have a point-and-shoot camera, but I want more control over my pictures. Photography is a hobby I've always wanted to pursue, but my lack of proper equipment was holding me back. This camera will allow me to pursue photography as a hobby and take high quality pictures of our memories.
On the flip side, several months ago we considered buying a TV. We have an old TV that works fine, but we considered getting an HDTV. We decided that it wouldn't add enough to our lives to justify the cost. Our TV works, and we don't care about the difference in picture quality that much, so a new TV wasn't worth the money.
Do your homework.
Before making a major purchase, make sure what you're buying will last and perform the functions you want. I thought about the type of photos I like to take, made a list of functions I needed, talked to some photographers I know, and read forums to determine which camera would be best.
I decided I needed a digital SLR camera to get the speed and control I want and a telephoto lens for the portraits and close-up shots that I like to take.
I chose the Canon Rebel XS. There are newer, pricier models, but the XS is suitable for me, so upgrading to a newer model isn't worth the money.
Start making price comparisons.
I looked at used cameras, but resale value is so high that buying used in good condition would only save me about $50.
I could get the camera and an 18-55mm lens on Amazon for $500 without the telephoto lens. Adding a Canon brand telephoto lens added another $250, bringing the total cost to $750.
I found an amazing deal on eBay for the camera, three lenses (including a Tamron 28-80mm and a Canon 75-300mm) and a ton of equipment like memory cards, carrying case, digital card reader, tripods and other things that I don't really need but may use as I learn more about photography. The total cost is $750.
I considered buying the camera with the 18-55mm lens for $500 and getting the telephoto lens later, so I broke it down by value. I needed a high capacity memory card ($25-$30) and camera case to protect the camera ($30). Ignoring all the other extras, that brings the cost of the lenses alone to under $200. There's no way I'll find two digital lenses, especially not a Canon telephoto, for under $200. Considering the huge list of extras in addition to the lenses, it was best to spend the extra $250 now. If I don't use all of the extra equipment, I can always resell it to get some of my money back.
Don't choose a bargain over quality.
For major purchases, it's almost always worth it to spend a little more for the best possible quality. I hope to have this camera for years to come, which means the additional cost will be worth it in the long run.
I can't wait to share my photos with you!