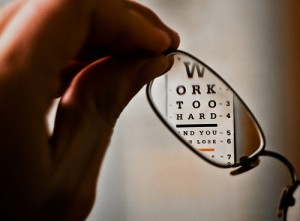 A few months ago, I wrote about a surprise bill I received from my dentist. Even though my insurance covers X-rays, preventative exams & two cleanings a year, I received a bill for an extra X-ray that wasn't covered. I decided to keep a closer watch on the procedures being performed on me in future visits and ask more questions about my insurance coverage.
Today I had an eye exam. Before the exam, the optometry tech asked if I'd like to have my retina scanned and photographed. The procedure would allow them to see underlying problems with my eyes. I asked if the procedure was necessary for someone my age, and she acknowledged that it probably wasn't completely necessary, but that they recommend it for patients of all ages.
I was upfront with her. "I'm here for an eye exam and a contact lens fitting," I said politely. "Can you tell me what my insurance will cover, and please let me know if you plan to perform any procedures that won't be covered?"
The point isn't to refuse all treatment that isn't covered. I just want to know what is and isn't covered so I can make informed choices about my health care.
I knew that my eye exam was covered, but I wasn't sure what exactly that included. I also had a feeling that anything related to contact lenses would not be covered.
She looked up my information and told me what I already knew — the eye exam was covered completely, but the "contact lens fitting," which is necessary to get new contacts, would have to come out of my pocket. That's ok, because my employer offers an HRA, so I will be reimbursed.
She was surprised to discover that the retina scan was actually covered 100% if I elected to do it. Well, ok. If it's covered, why not?
I'm glad I asked. If it wasn't covered, I wouldn't have wanted to be billed for it. I'm also glad I didn't refuse the procedure without knowing. I want to take full advantage of my health insurance benefits.
Though the total cost of the exam was over $300, I paid $63. The contact lens fitting was $75, but I'm also a member of a vision discount plan in addition to my insurance, so I received a small discount.
I'm a little miffed about the high cost of the "contact lens fitting." Basically, all it entailed was the doctor asking me if I'm comfortable with my current lenses, poking a new set of lenses into my eyes, and giving me a sales pitch about the new, more expensive brand. I have another appointment in two weeks, at which point he'll ask if I like the new brand, give me another sales pitch, and finally write my contact lens prescription. It just seems like $75 is a little ridiculous for that. Whatever, though. I guess that's the price I pay to wear contacts.
Consider being an active participant in your medical care. Always ask for more information about procedures and insurance coverage. It's sad but true that many providers will push unnecessary services onto patients despite the fact that they aren't covered by insurance.
Never refuse a necessary procedure just because you don't want to pay out of pocket. Your health should always come first. Just be sure that you're not paying out of pocket for a procedure that you don't need.