I had the best of intentions to get rid of the clothes I never wear and round up all of the magazines that have been accumulating around the apartment for over a year. Then we spent yesterday afternoon and evening at two different cookouts. The bigger part of today went to running errands, grocery shopping, and honestly doing nothing. Then it was suddenly 7 p.m., and I realized I'd gotten nothing done. Oops.
The nice thing about blogging is that I now hold myself accountable for the little goals that I set. It's just too late for me to get started on the massive undertaking that is my clothing surplus, but I figured I could get the magazines taken care of easily enough. So I set to work collecting all of the magazines scattered around the apartment. I found magazines in pretty much every room in our apartment. 42 in all. Yikes.
Here they are all stacked up and ready for recycling. Next to them is our very curious dog trying to camouflage himself and blend in with the magazines. He didn't understand why I was lying on the floor taking pictures instead of playing with him: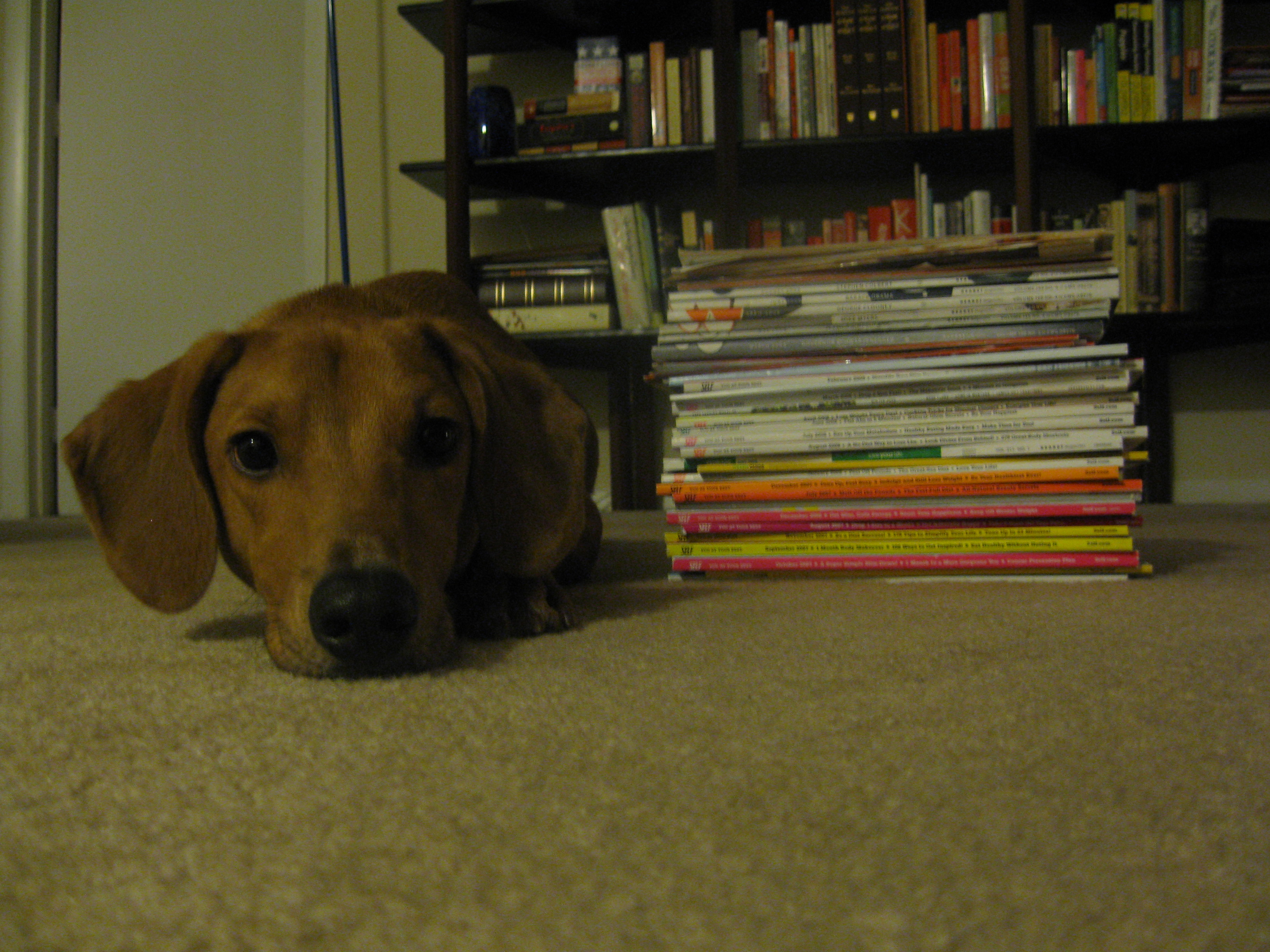 Tony and I spent an hour flipping through them and tearing out articles, recipes, and workouts that we thought we might use in the future. We only found a tiny stack of useful information. The rest is going to the recycling center tomorrow evening along with all of the junk mail, newspapers, and other paper waste that's been accumulating in the corner of our guest room for two months.
We've acquired a number of new subscriptions in the past few months, so our goal is to keep up with our magazine build up from now on. We want to get rid of them as we read them so the only issue we have on hand is the current one. We've tried this method in the past and, obviously, failed.
I don't know why I'm convinced that I need to save magazines. I never go through them again. Never. It feels good to have them all stacked up in one place and ready for recycling. Here's hoping we can stick to it this time!
Anybody else have a magazine problem? How do you manage it?