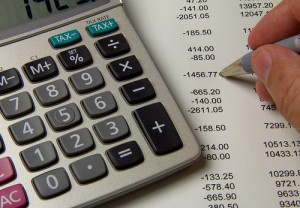 At the start of the year, my friend Kacie inspired me to explore new options for simplifying our finances and bill pay process. I'm still working out some of the details for these new systems, but I'm going to share them with you here, in addition to the systems we already have in place for simplifying. Be sure to share your ideas in the comments!
Go paperless.
If you haven't done it already, chances are you think about it every time you open a paper statement and see the words, "Go paperless now!" My advice is to just get it done. To keep a record of statements, open the electronic version when it becomes available and save it as a PDF on your computer. You'll feel better without all that paper mail bogging you down, and it will simplify your filing system, too.
Automate your budget.
Rather than manually tracking expenses in a spreadsheet or on paper, sign up for a service like Mint.com. Mint will automatically track and categorize your spending. With very little management, you can see a complete picture of your spending and budget categories as well as charts showing you whether you're on track for meeting your monthly budget limits.
Automate your bills.
Kacie has been working on this herself, and it inspired me to figure out a system that works for us. Right now, I navigate to each bill's website and pay each bill online individually. I like the immediacy of paying online through the site, because I receive a confirmation immediately, and then it's done.
I don't like automatic electronic funds transfer, because it basically gives the payee unlimited access to your account forever. (I learned this the hard way when our previous health insurance company continued debiting our account for 4 months after we canceled the policy despite the fact that I elected to stop automatic debit months before we canceled. I eventually had to file a fraud claim with my bank and have them blocked from my account, at which point they sent us a letter notifying us that they were canceling the policy due to nonpayment. PFFT. FINALLY.)
Check with your bank to see how their automatic bill pay system works. Setting up each individual payee will be a pain the first time, but then it's done and you can pay each bill through your bank's website with a single click.
Split your paycheck to even out pay periods.
My husband is paid twice a month — on the 15th and on the last business day of the month. I try to balance our bills so that we're paying about the same amount in fixed bills from each check, but our mortgage payment really throws that off. If we were extremely disciplined, this wouldn't be an issue. We could just leave the surplus from the other check alone, and use it in the next pay period. Unfortunately, that's not usually what happens. What happens is we see that surplus in the first check, and we overspend for the first two weeks of the month. Then at the end of the month after the bills clear, things are really tight until the next pay day. It's annoying.
Kacie came up with an idea that will remedy this problem, and I'm going to give it a try myself. She decided to add up all of her fixed bills (mortgage, utilities, etc.), and have half that amount deposited from each paycheck into a separate "bill pay" checking account. The remainder of each check will be deposited into a different account for daily expenses like gas, groceries, and other purchases.
For example, to make things simple, let's say you earn $2000 a month. Your fixed expenses total $1500. Everything else is $500 a month. After paying your fixed bills, you have $400 left out of the first check and only $100 left out of the second check. Under Kacie's system, you would deposit $750 from each check into the bill pay account and $250 into the daily expenses account. Now you have an equal amount for daily expenses each month, and your fixed bills are covered no matter when you pay them.
It might sound complicated, but I like the simplicity of having the same amount for expenses in each pay period. The symmetry will make budgeting much easier.
Pay the bills on pay day.
To combat the confusion of tracking a million different due dates, pay bills just twice (or once) a month. Every pay day, I go through and pay all the bills that are going to be due in the next two weeks. I have a list that I work from, so I know around what time the bills will be due even if the actual date fluctuates by a day or two. Once I pay all the fixed bills, I know that whatever is left in the account is available for day-to-day expenses.
How do you keep your finances simple?