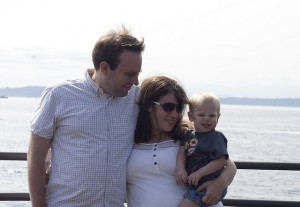 My three-month break from blogging wasn't planned. That's why I never had the chance to post a note explaining my absence. I was always on the verge of posting an update. Tomorrow. Next week. Any day now. Soon.
It started with good news. Shortly after my last post in August, I found out we were expecting another baby. We were elated. Then came the fatigue, the morning sickness, the aches and pains. All of that added to a rigorous teaching schedule and a 21-month-old gave me little time for anything else — not even this blog that I missed so much.
Unfortunately, our good news was followed by heartbreak. At our first ultrasound at 10 weeks, there was no heartbeat. I had a miscarriage at the end of October.
It was painful and sad, but now a month later I'm doing much better. We're preparing to celebrate Judah's second birthday (TWO!), and I'm reminding myself daily just how much I have to be thankful for.
Long story short, I miss you guys. I miss this space. I'm not going anywhere anytime soon. I love this blog too much to give it up completely. I hope to start posting regularly again, and I hope that some of my readers have stuck around during my extended break.
To those of you who emailed me, thank you. Your concern means the world to me. All is well. Obla-di Obla-da, life goes on.
What's new with you?