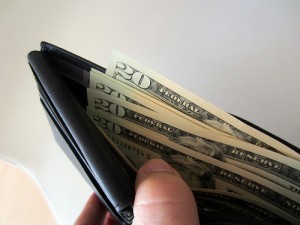 I started my new teaching job at the beginning of March, but due to the pay schedule I didn't receive my first paycheck until the first week of April. It's been two years since the last time I had a regular paycheck of my own, and it was quite a thrill when the money showed up in our bank account. I felt that old "pay day" elation, and let me tell ya, it's a powerful drug.
My plan for my income from the start has been to devote it entirely to beefing up our savings and paying down our student loan debt. Because I'm not sure how long I'll be earning this money, it was never intended to be lumped into our regular income. But my bi-weekly paychecks are almost equal to the amount we've allotted to "day-to-day purchases" — groceries, household goods, and spending money. Suddenly, it felt like our "day-to-day money" had doubled.
Let's just say, it's been a pretty fun couple of weeks. I enrolled Judah in a summer gymnastics program, switched from my current gym membership to a more expensive YMCA membership (with a hefty enrollment fee), and did some damage in Target a few times.
Then I realized: this is how it happens. Your income increases, you tell yourself, "Just this once — we can afford it now." And before you know it, your monthly budget has increased with no extra savings to show for it. It's the very definition of lifestyle inflation.
Thankfully, I realized it before it's too late. It still feels like "extra money," so I have time to adjust the budget and reallocate the money before it becomes a serious habit. Only now it will feel a little like deprivation for the first few paychecks, because I already experienced the powerful drug of spending it.
I'm not saying that there's no room to loosen up when your income increases. If you get a raise or find some other source of extra income, it's okay to loosen up some areas of your budget. Just make sure you have a plan to put some of that money to good use, too. Save some money, repay some debt, increase your retirement contributions, and then spend a little. The point is that if you're not mindful of how you spend income increases, you'll get stuck in a cycle where you spend every penny you earn forever and ever. It's a good way to feel broke no matter how much you make.
Don't let this happen to you. Make a plan for your income increases before the money hits your bank account, and stick with it. Your future self will thank you for it.