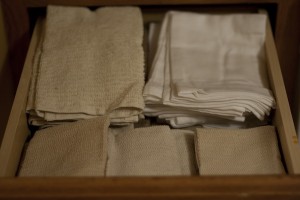 I've written about kicking my paper towel addiction before, but it's one of those things that I never got around to doing. I convinced myself that I still needed paper towels for cleaning up things like raw chicken in the kitchen or wiping down toilet seats when cleaning, and so I continued buying them in bulk. Bad for the environment and bad for my wallet.
Inspired by Tsh Oxenreider's book, "One Bite at a Time: 52 Projects for Making Life Simpler,*" I decided this was the year I was going to kick the habit for good. Here's how I did it:
Stock up on cloth alternatives.
In Tsh's book, Maya Bisineer, contributor for Simple Mom Green, recommends keeping enough dish towels, washcloths, and cloth napkins on hand to avoid the need for paper towels, and making them easy to access in the kitchen. For about the price of a 2-month supply of paper towels, I bought 8 large dish towels, 12 smaller washcloths, and 12 cloth napkins. I cleared a drawer, and stocked it up with our new cloth towels and napkins.
Don't be afraid to use cloth.
The transition will feel weird at first. It might feel too formal to wipe your mouth with a cloth napkin on taco night. Or it might feel gross to wipe up surfaces that have come into contact with raw meat with a washcloth. Remind yourself that these napkins and towels are meant for daily use, and keep in mind that cloth can be sanitized in hot water and a little bleach, if necessary. When you use cloth to clean particularly nasty messes, just be sure to rinse in very hot water, ring out the rag completely, and hang it up in the laundry room until you can throw it in the washer. Never throw wet rags directly into your laundry basket or they'll start to stink and mildew. If you can't bring yourself to use the cloth, keep sponges on hand for wiping up messes, and disinfect them in the microwave or dishwasher after using.
Use sponges for cleaning.
I used to use paper towels for cleaning everything in the bathroom. For the past few months, I've gotten used to using a sponge to clean the sink and tub, but I was still using paper towels on the toilet seats. To keep things sanitary, I now have two sponges that I use for cleaning the bathrooms — one is brown, the other is blue. I use the brown sponge for wiping down sinks and tubs. The blue sponge is used on toilets only. When I'm finished cleaning, I let the sponges sit out to dry for a few hours, and then I store them under the sinks. Because I'm only using them to clean the bathrooms once a week or so, they last forever.
Have you kicked the paper towel habit yet? How did you do it?
(*Affiliate links are denoted with an asterisk.)