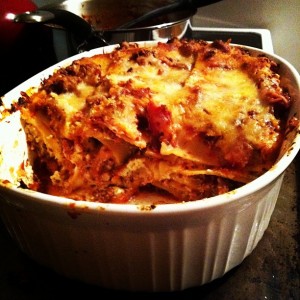 This is one of the only recipes that I prefer to cook instead of Tony. The recipe came from my mom. It was my favorite meal when I was a kid, and it's one of the first things I ever learned to cook, so I have a lot of fun making it myself.
It's not difficult, but it's time consuming and a lot of work, so I usually only make it for special occasions or dinner guests. It's worth the work, though! It's still one of my favorite meals.
The marinara sauce is delicious on its own, and you can use it for ordinary spaghetti or other pasta dishes. I hope you enjoy it as much as I do!
Lasagna with old-fashioned marinara sauce

1 lb. ground beef
1 small onion, chopped
3 cloves of garlic, minced
1 (14.5-oz) can of diced tomatoes
1 (14.5-oz) can of tomato sauce
1 (5- to 6-oz) can of tomato paste
2 Tbsp. of parsley
¼ tsp. of sugar
¼ tsp. of kosher salt
1 tsp. of dried basil
½ cup of red wine
Cheese Filling
3 cups of ricotta cheese
½ cup of Parmesan cheese
1 Tbsp. of parsley
1 tsp. of oregano
1lb. lasagna noodles
8 oz. shredded mozzarella cheese
1/2 cup Parmesan cheese for sprinkling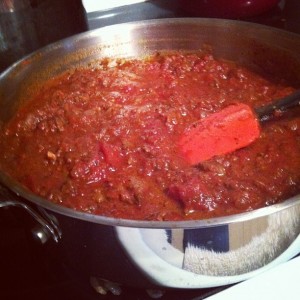 Cook ground beef in a large skillet with a pinch of salt and pepper until browned. Drain all but a tablespoon of the fat. Add onion and garlic and saute in skillet with ground beef until soft. Add diced tomatoes, tomato sauce, tomato paste, parsley, salt, and basil. Stir until tomato paste is blended into sauce. Bring to a slight boil. Add red wine. Reduce heat, and simmer for 30 minutes.
In a large bowl, combine ricotta cheese, Parmesan cheese, parsley, and oregano. Boil lasagna noodles for 10-15 minutes according to instructions on packaging.
Build lasagna in a deep casserole dish beginning with a small layer of sauce to avoid sticking. Lay down noodles with no gaps followed by cheese filling, sauce, mozzarella cheese, and Parmesan cheese. Repeat twice for a total of three layers. Top with a layer of sauce, mozzarella cheese, and Parmesan cheese.
Bake at 350 degrees for 30-45 minutes until cheese is bubbly and beginning to brown. Allow to cool for 15 minutes before serving.