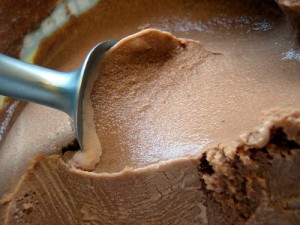 Summertime = ice cream. Obviously. So now that summer is here, and Judah still doesn't seem to be tolerating dairy in my diet, I was understandably bummed about it.
I looked at the "ice cream alternatives" in the grocery store — there are soy, rice, almond, and coconut milk varieties — but I sort of dragged my feet about trying them. I viewed them the same way I view "dairy-free" cheese. What's the point? If it's only going to remind me how much I want the real thing, then I might as well just skip it.
After some cajoling from Tony, I finally agreed to try coconut milk ice cream. No dairy. No soy. Still pretty high in fat and calories, so you can't eat a pint every night without putting some junk in your trunk, but it's okay as an occasional treat.
I tried it, and I FELL IN LOVE. Coconut milk ice cream is absolutely delicious. I didn't miss the dairy at all. It tasted rich and smooth just like real ice cream, and the slight hint of coconut flavor just made it all the more delicious — and I've never been a huge fan of coconut in large quantities.
The only problem? Coconut milk ice cream is not frugal. Not even a little bit. We can usually get two quarts of premium ice cream for $2.50. A pint of coconut milk ice cream will cost you at least double that, and usually closer to $6. For a single pint.
Because my husband is a saint — and because he missed ice cream, too, but didn't dare try to eat it in front of me — he found this recipe for chocolate coconut milk ice cream. We made a few alterations to make it more affordable (agave syrup may be healthy, but it's pricey). Here is our version of the recipe:
Chocolate Coconut Milk Ice Cream
3 cups of unsweetened coconut milk (two cans)
2/3 cup of cocoa powder
8 tablespoons simple syrup
1 teaspoon vanilla extract
6 tablespoons brewed coffee, cold
Mix ingredients together until smooth. Cover and refrigerate overnight. Add cold coffee. Follow your ice cream maker's instructions to turn the mixture into ice cream. Serve immediately as "soft serve," or freeze overnight for firmer ice cream.
We paid about $3 for the coconut milk and pennies for the small amounts of sugar, vanilla extract, and coffee included. It yielded about a quart and a half of coconut milk ice cream for about half the price of a pint in the grocery store. I'm excited to try all kinds of variations on this recipe, including vanilla and coffee flavors and all kinds of mix-ins.