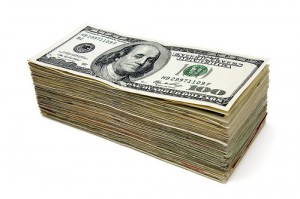 Last week's post about holding off on paying down debt sparked a little controversy in the comments. I wanted to clarify some of my views, because there seems to be some confusion about my financial philosophy.
First of all, I am not debt free. I have never claimed to be. Like most 25-year-olds, my husband and I both carry student loan debt. I've written about it before. I don't regret a day of my education, but I do regret some of my financial choices during that time. But it's done now.
My husband is a graduate student. I earn an entry level salary. We've been blessed with a few pay increases over the past few years, but our income remains pretty low by today's standards.
When I started this blog, I was depressed about our financial situation. We had credit card debt, student loan debt, no savings, tuition to pay, and we still felt like we didn't have any money left over for fun. I wanted to learn to save without sacrificing fun.
Since then we've adapted to spending very little money in our daily lives. We don't eat out. We shop the clearance racks (when we do shop). We meal plan. We share a single vehicle. The result is that 30% of our income goes directly into savings. Another 10% of our income goes toward debt repayment.
As my husband prepares to graduate next month, and we prepare to close this chapter in our lives, we have been spending more than usual lately. After three years of frugal living and hard work to pay off credit card debt, build an emergency fund, save for our move, and save for our vacation, we are rewarding ourselves.
I did not ask for permission. I don't think any of you should ask for permission from anyone when you make decisions about how to manage your money. The point of my blog — from the beginning — was for my husband and I to learn to live on less than our already low income so that we could have enough money to pay debt, save, and enjoy life. Those are my priorities.
I have never subscribed to the Dave Ramsey philosophy. I understand that it's worked for many people. I admire them, and would never ever judge their choices. I'm happy for them, because they're happy. But putting every single penny of my extra income toward debt repayment doesn't make me happy. I don't want to wait until I'm debt-free to have children, own a home, or see Europe. So I'm using some of my extra income to save for these goals while I pay down our debt.
I admire the commitment to debt-free living, I do, but there is room in my budget for more than that. Dave Ramsey's baby steps philosophy is focused on one thing at a time — save, then pay debt, then save some more. Only after you've saved and paid debt is there room for fun. I just don't believe that.
I come from the generation of multitaskers, and I think if you're smart about your spending, you can do a lot even with a very limited salary — without increasing your debt. You can save money, have fun, and pay down debt at the same time. It will take a little longer, but it's worth it to me. I will eventually be debt free. That low-interest debt will be there waiting for me when we get back from Europe. And we will pay it off — on our own terms and our own timeline.
What Dave Ramsey takes for granted is that we have all the time in the world. But what happens if you spend your young life doing nothing but saving and paying down debt, and then your life is cut short by tragedy? You're left with no time to enjoy the riches you've accumulated. I'd rather multitask now and know that I won't run out of time before I can enjoy the fruits of all that saving and hard work.
When we get home, it's back to counting every penny, just like we have for the past three years. It's back to saving for our goals through very limited spending. We can't forget about why we're doing this, though. We want to build a better life for ourselves, and sometimes that means spending a little money.
The whole point of budgeting is making your money go further. If there's something you've been wanting to save for, don't wait for permission. Start saving now. I think you'd be surprised at just how far your money goes if you spend carefully.