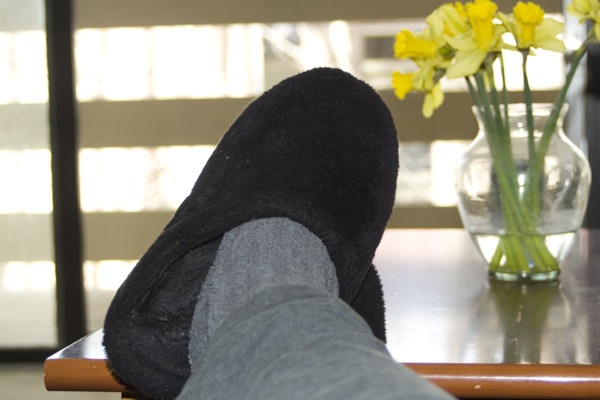 Whether I'm feeling sick or I've just come home after a particularly tough day at work, the first thing I do is kick off my shoes and slip into a pair of cozy fleece socks and slippers. They have the power to instantly comfort me.
Every year at Christmas, Tony gets me a new pair of cozy socks or two, so I've built up quite a collection. They're particularly comforting in the winter. But even in the summer time, my feet always seem to be cold in the evenings, so I wear them year round.
There's nothing special about the slippers. You can get similar pairs at Target or Wal-Mart for under $10. This is probably the fifth or sixth pair of similar, plain old fuzzy slippers I've had since college. I've had these for over a year now, so it's time to replace them.
On road trips I always leave them out of my luggage so I can put them on during the drive. They're the most comfortable thing I own, and sometimes I wish it was socially acceptable to wear them in public.
This is one of four favorite things I'll be posting about this week. If you'd like to share your favorite things, leave a comment or send me a link to your blog post.