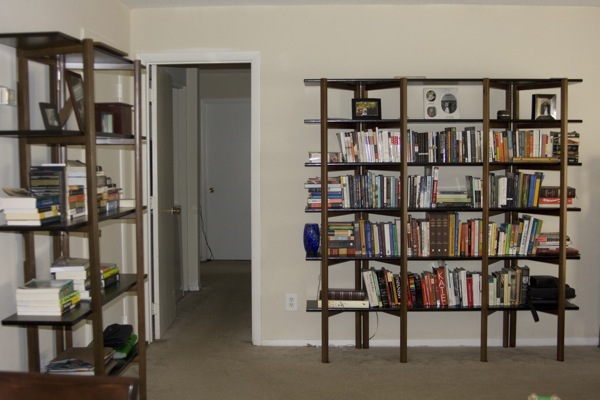 I love everything about books. I love the way they look, the way they feel in my hands, the way they smell. When we were less frugal, my husband and I spent more money buying books that we should have.
These days, we get most of our reading materials from the library, or we borrow books from friends. But books remain our favorite frugal gift for each other. We each have a wish list a mile long for books that we'd like to own, and every birthday and Christmas most of our gifts have that familiar rectangular shape. Only now we prefer to buy used books instead of new ones to save a little money.
Most of our furniture is second hand. I've been sleeping on the same double bed since college, we bought our couch for $30 from a college student, and our TV was purchased second hand from a friend. These bookshelves are one of the only pieces of really nice furniture that we own.
We found the big one at Target right before we moved to North Carolina, and we decided to splurge on it. (It's no longer available.) We'd been using cheap bookshelves made of particle board and held together with glue and small screws, but anyone who's ever tried to move one of those knows how difficult it can be. They're impossible to move up and down stairs, and they're so cheaply made that they rarely survive the move.
We loved this bookshelf not only because it's beautiful, but because it easily comes apart into two separate pieces and six shelves. We'll be able to carry it and move it unassembled, so it will survive many moves to come.
Despite the fact that we've slowed down our book purchases since we started living frugally, we've slowly but surely outgrowing the big bookshelf. So when I found a smaller matching bookshelf at Target, we invested in it.
I love everything about these shelves from the way they look to the books they hold, and because they're so sturdy, they'll be in our home for years to come.
This is one of four favorite things I'll be posting about this week. If you'd like to share your favorite things, leave a comment or send me a link to your blog post.