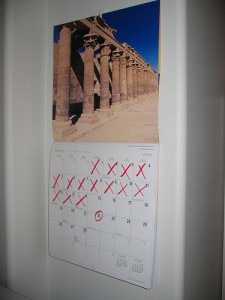 Ever since I was a kid, I've had a pretty serious addiction to countdowns. It's normal when we're kids, though, right? We're always waiting for the next birthday, Christmas, summer vacation. It seems we're always counting down to something.
It's just that I never grew out of it.
It's not that I'm unhappy with the here and now. Sometimes I am. But most of the time, I recognize how good I have it now. I enjoy the present. I do. But I've always got one eye on the future, looking ahead to what's next. It's in my nature to plan and prepare, and how can I do that without anticipating the next big thing? How can I prepare if I don't keep my eyes ahead?
The problem is, no matter how hard I try to stay grounded in the present, all of this anticipating inevitably steals some of the joy of now. The more exciting the next step is, the harder it is for me to enjoy what's now without wishing my days away.
I hope I always have a next step to plan for. I hope there's always a reason to look ahead with excitement. The day that I wake up and realize there's nothing exciting in my future would be a sad day, indeed. But I need to work on looking ahead to tomorrow without rushing through today.
I need to teach myself to focus more on the present. Most importantly, I need to learn that while it's okay to plan and prepare, it's useless to worry about the future. The universe has a tendency to work itself out for the best. My worrying won't make a bit of difference in the end. All it does is steal my joy in the present.
Each day I look at the calendar and mentally tally up the days until our trip and the days until the next chapter in our lives begins. Each day it gets a little easier as the wait gets shorter. But every once in a while I need to remind myself to slow down. I need to remind myself that someday I'll look back on this time in our lives, and I'll wish I hadn't counted down so anxiously to its end.