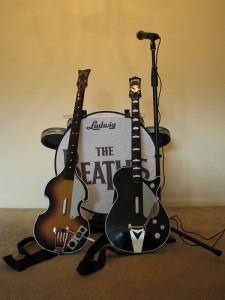 For the past several months, there have been a handful of things that Tony and I wanted, but didn't need. I'm sure you have your own list of fun things that you can't justify spending the money on, but you want anyway.
For us it was a new TV, a Playstation 3, and the Beatles Rock Band game. There have been a few times when we've gotten our hands on some extra money and considered splurging for one of them. But I could never do it. All together, the three of them would have cost us almost $1,000. Something so frivolous just wasn't worth that kind of money to us.
This week we learned the importance of waiting for things like this. Thanks to the incredible generosity of the people in our lives, we received all three of them for $200. Here's what happened.
My future brother-in-law who is currently serving in Iraq found out that we wanted a Playstation 3. He's a big video gamer, but ever since he got an XBox, he wasn't using his Playstation. Because he's incredibly generous, he sent us the Playstation 3 and told us to consider it a Christmas gift. I told him we'd pay him for it, but he refused. Thanks, Joey!
When I told my parents that we received the Playstation 3, they knew how much we wanted Beatles Rock Band. They also knew we'd never spend the money on it. So they sent it to us as a Christmas gift. We were thrilled.
Finally, a good friend of mine back home in Indiana  offered us his used 42-inch plasma TV for $200. We've been in the market for a new TV, but the lowest price we could find on a 32-inch was $400. We just couldn't justify spending that as long as our old TV was still working. But I couldn't pass up this deal, so I used some of my holiday bonus to buy it from him. (Thanks Chris!)
The moral of the story? Well, first of all, we have the most fantastic friends and family. But secondly, when there's something you want but you don't need, just wait. Eventually you'll find the deal you've been waiting for.
And don't worry: we'll be sure to pay this incredible generosity forward. :)