This week on our vacation to Indiana to visit family and friends, we brought our dog Howie along for the ride. Our families were both happy to accommodate him, and he'd rather be with us than back home in a kennel. But bringing a dog along on vacation comes with a long list of hassles.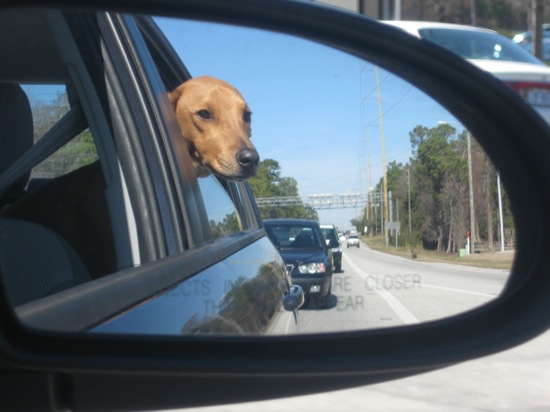 We took some steps to keep Howie happy and out of our hosts' hair while saving our own sanity. Try these tips if you're bringing your favorite family pet along for vacation:
Exercise, exercise, exercise.
If you think your dog has had enough exercise, put him on the leash and take him out again. If you have a young dog, it's not possible to exercise him enough on vacation.
Howie is incredibly well behaved in the car — he usually just goes right to sleep as soon as we start driving. But we still stop every two hours on the road to let him stretch his legs on long car trips. We also took him for a run every morning when we were staying with family. Nothing is more stressful than an under-exercised dog in a strange environment. Without enough exercise, dogs are restless and whiny at best and downright destructive at worst. Make sure they're spending the vacation as tired as possible.
Bring as much of home as you can.
When Howie was younger and sleeping in a crate, we brought it along on trips. Now we bring his dog bed, his favorite toys, and plenty of food. If you're traveling with a cat, consider bringing a scratching post, cat toys and bed to keep them occupied and comfortable. Bringing a piece of home along with you will make them feel more secure in a strange environment, and the more secure they feel, the less likely they are to act out.
Don't pawn your pet off on family.
I don't know if you've noticed, but Howie is pretty much the most adorable dog ever. Consequently, all of our family members were offering to walk him and feed him and pet him. It's easy to walk away and assume they'll take care of taking him outside or disciplining him if he's getting too rowdy. Be careful not to do that.
If you're visiting family with your pet, don't expect them to do the dirty work. Just because they're enjoying the novelty of your furry friend doesn't mean they want to scoop the litter box or follow your dog around with a poop bag. Don't get too distracted to take care of your pet's basic needs.
If your family or friends want to take advantage of the fun parts of spending time with a pet, let them. But when it comes to the dirty work, make sure you're doing it yourself. If you expect someone else to take out the dog, you might end up with a mess on the floor, and your family won't be so willing to welcome your pet next time.
Since I'm not a cat owner, I'd like to hear from those of you who've traveled with cats. How do you make it easier on your pet when you're traveling?