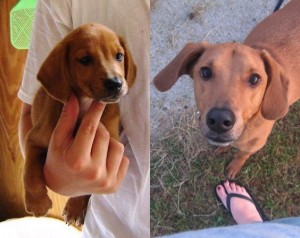 Left: His first photo at the shelter, 8 weeks old. Right: Enjoying our anniversary camping trip last month.
I can't believe how quickly time flies.
We made the decision to adopt a pet right after we moved to a new place. We were just beginning to live frugally out of necessity, but we managed to bring a pet into our family without sacrificing our budget.
It was absolutely one of the best decisions we've made. Howie has brought us nothing but joy, companionship, and comfort in some of our darkest times. He's truly a part of the family.
Despite the horror stories you hear about pet expenses, rescuing a pet can be frugal. As long as you plan ahead for their vet care by saving a little each month and work necessities like food into your budget, it's really not a huge burden.
That's not to say caring for a pet is free. We spend about $350 a year on Howie's vet care alone. But it's absolutely worthwhile, and like anything else, you can reduce the burden by planning ahead. We put aside $25 a month for his vet visits, immunizations, and flea and tick prevention medications. We buy his medications at 1800PetMeds to save money, and we make his immunization appointments on Thursdays when our vet offers a 20% discount for shots.
If you're committed to bringing a pet into your family without blowing your budget, all it takes is a little work and planning.
Here are some additional tips I've learned over the past two years:
Don't pay for obedience training.
The biggest commitment for the first year with your puppy isn't money; it's time. If you don't have the time to properly train your dog, then I don't recommend getting one. You can't teach your dog manners in an hour a week at obedience school, and you'll only end up wasting your money. Instead, invest in a book on dog training and spend your time working with him.
Pet health insurance is a waste of money.
It seems tempting to insure your new pet's health, but with all the loopholes it's just not worth it. Often times you'll spend hundreds a year on premiums only to discover your pet's claim isn't covered. Instead, save a little each month for routine care and keep building your emergency fund. If disaster strikes your pet, I'd consider that an acceptable reason to dip into your emergency savings.
Don't be cheap when it comes to caring for your pet.
We choose to save money by planning instead of skimping. It's okay to shop around for the lowest price on quality dog food, but don't buy the cheap, low-quality stuff just to save a few bucks. Don't avoid preventative veterinary care to save money, either. In the end, it will end up costing you more to deal with the problems it causes. And if you're going out of town, spend a little extra for a reputable boarding facility. Your pet depends on you for the best possible care. If you can't afford to give it to him, then you can't afford a pet.