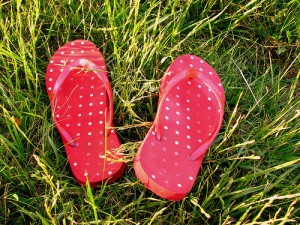 Photo by lonebluelady
We're only in the second week of our no spend summer, and we've already hit some challenges and setbacks. Even though we know it's worth it, limiting our spending has been really tough. It's a challenge to keep ourselves from feeling deprived and losing motivation.
There are some things that I associate with summer that we've had to give up. Because we miss them, we're thinking of no spend alternatives to the summer activities we love.
Movies and popcorn
What's summer without blockbusters? Though we sometimes catch a matinee at the cheap theater for $5.50 a ticket, we still miss the fun of the big screen with a bucket of popcorn. Check your city's events calendar and see if they're offering free screenings of classic movies. Our city screens family movies in a park every Sunday night for free. If your city doesn't offer anything like that, add a little extra fun to family movie night by popping homemade popcorn on the stovetop.
Going out for ice cream
Nothing says summer like a trip to the ice cream parlor. But gourmet ice cream parlors are way too pricey, and even Dairy Queen can add up. Instead, drive through any fast food restaurant with a $1 menu and pick up an ice cream cone or a sundae. I don't usually recommend McDonald's, but their hot fudge sundaes taste just like Dairy Queen, and they only cost $1.
Lunch on a restaurant patio
One of our favorite weekend activities when the weather is nice is dining outside on a restaurant patio. But part of our no spend summer plan is no restaurant meals, period. If you really want to sit outside and enjoy the weather, pack a lunch and a blanket and head to the park or the beach.
Summer concerts
Ever since I was a teenager, summer meant live concerts. But concert tickets can cost a lot of money. Again, check your city's events calendar for free live music. Our city presents a band downtown every Friday night of the summer for free. The next best thing for us is listening to an album we haven't heard in a long time all the way through, start to finish. With today's iPod culture, a lot of people are missing out on the fun of listening to an entire album. We make it a point to put on music and really listen instead of putting it in the background. If there's money in the entertainment budget, you can even download something you've never heard on iTunes for about $10.
Summer vacation
It really is true that you can get out of town, or at least out of the house, without spending a lot of money. Camping at a state park is a great, inexpensive way to get out of the house. If even camping is a stretch for your budget, look at your city through the eyes of a tourist with a stay-cation. Check out the art and history museums near you. See if there are any national historic sites within driving distance. Even if you have to take a day trip to the nearest metropolitan area, a tank of gas is well worth that vacation feeling without shelling out for hotels and restaurants.