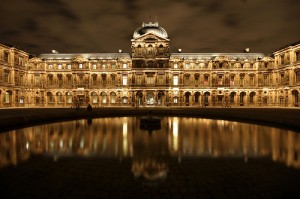 photo by Zigar
The first step to taking on any overwhelming endeavor is learning and reading as much as possible on the topic. Before I really started planning my wedding, I read book after book on wedding planning, flipped through magazines, and searched for ideas for saving money.
I'm taking the same approach to planning our frugal trip abroad. Even though I won't start booking plane tickets or making reservations until next fall, I'm learning as much about it as I can right now. By the time I actually start making plans, I want to be as close to an expert as I can be without having been there.
I want to share my planning process with all of you, so I've decided to start a sporadic series on how we're planning and preparing. I've already come up with a rough budget for the trip, and now I'm looking for ways to slash it without sacrificing our comfort and fun.
We're still 18 months away from our desired departure, so these plans are subject to change (and most likely will). But I want to keep all of you in the loop in the step-by-step process (and get your ideas and feedback as we plan), so I'm going to be writing about everything. I hope you'll continue to give me your awesome feedback and ideas. I could certainly use them!
My first step is finding as many resources as I can. Yesterday Tony and I went to the bookstore and pulled about 10 books about European travel from the shelves. Eventually we'll buy one for each city that can serve as a reference guide, but we'll probably wait until next year so it will have the most up-to-date information.
I really like the Frommer's and Fodor's series for information on attractions, but I was really looking for a guide with a focus on first time travelers and budget travel.
I started flipping through the "Let's Go" series (Let's Go Paris and Let's Go London). These books are mostly geared toward young travelers, particularly students, so they're not really good for family travel. But they offer a ton of information for first time travelers and ways to save money. So far these are my favorites.
Do you have any other suggestions for planning resources?