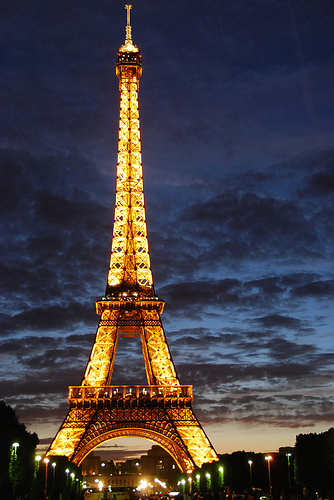 Last weekend during one of our long talks, Tony and I ended up discussing the things we'd like to do before we have children. At the top of both of our lists was a trip to Europe.
There are a lot of things we'd like to do someday, but international travel is the only one we can't imagine doing with a baby.
Ever since we met, we've talked about traveling to Europe while we're young — one last big trip before we settle down and start a family. When we first started planning our wedding, we briefly considered a European honeymoon. Our budget and my inability to find a full time job after we moved quickly nixed that plan. But when we decided to take a brief (and frugal) trip to Washington D.C. instead, we told ourselves that we'd plan for a European vacation the summer after he graduated in 2010.
When we committed to becoming debt free, I shelved this lofty dream. "We can't afford anything like that until we're debt-free," I told myself.
But now that we're credit card debt free and making serious plans for a family, I've realized something — we'll be paying our student loan debt for a long time. No matter how aggressive we are, we'll be paying those debts for years after we've had children. I've come to terms with that, and I'm ok with it.
We can't wait until we're completely debt-free to live our lives, though. My first plan was to be 100% debt-free before having children, but there's no way I'm waiting 10-15 years to start a family. I've decided to add the dream of a European vacation to that list, too. We don't want to wait until retirement to take the trip we've always dreamed of taking.
So we've set a new goal for ourselves: we want to plan a trip to London and Paris for May 2010. If it works out, we'll be spending our second wedding anniversary in Paris! :)
That doesn't mean we're sacrificing our other goals, though. We're not going to add to our debt for this trip or stop working toward our goal to be debt-free. After some planning and discussing, here's our rough plan:
We'll pay for the trip in cash.
We'll be as frugal as possible in planning the trip, and plan ahead to make sure we're getting the best deal possible on airfare, hotels, and other expenses.
Our emergency fund is still our top saving priority, so any saving for Europe will start after we've fully funded it.
We'll continue to pay a little extra on our student loans to cut the total time we'll be repaying. After the trip, student loans will be our top priority.
All extra money (including gifts and extra income) will go toward emergency and vacation savings.
We'll cut spending in other areas to free up money for savings and debt.
I did some preliminary research and determined that we'll need to save about $6,000 for the trip. Including our emergency fund goal, that means we'll have to save about $12,000 in 16 months.
I realize this plan will delay a lot of our other goals — including being debt-free and buying a house. We've considered all of this in our decision, and I can't imagine a scenario in which we'll regret the trip (as long as it doesn't add to our debt).
I'm more excited about this goal than I've been in a long time, and I'm feeling good about our decision. As excited as I've been about paying debt, it can be so overwhelming and depressing to devote every extra penny to what seems like an endless black hole of debt. Adding an exciting goal to our plans has given me the lift I needed. I can't wait to get started!