In August, Tony and I spotted a deal on cookware that was almost too good to be true. Originally priced at $200, the set was 50% off. We'd been looking for cookware for some months, and the amount of cooking we do would have made it a great investment. But we walked away from it to avoid blowing our first successful budget. In hindsight, I think we made the right choice.
Today, we stopped in at the Linens 'n Things liquidation sale. I wasn't expecting to find anything great. Last time we were in there, I wasn't impressed. In my opinion, their prices were so inflated in the first place that even on sale they were still too expensive. But some weeks have passed, and the prices have been lowered even more.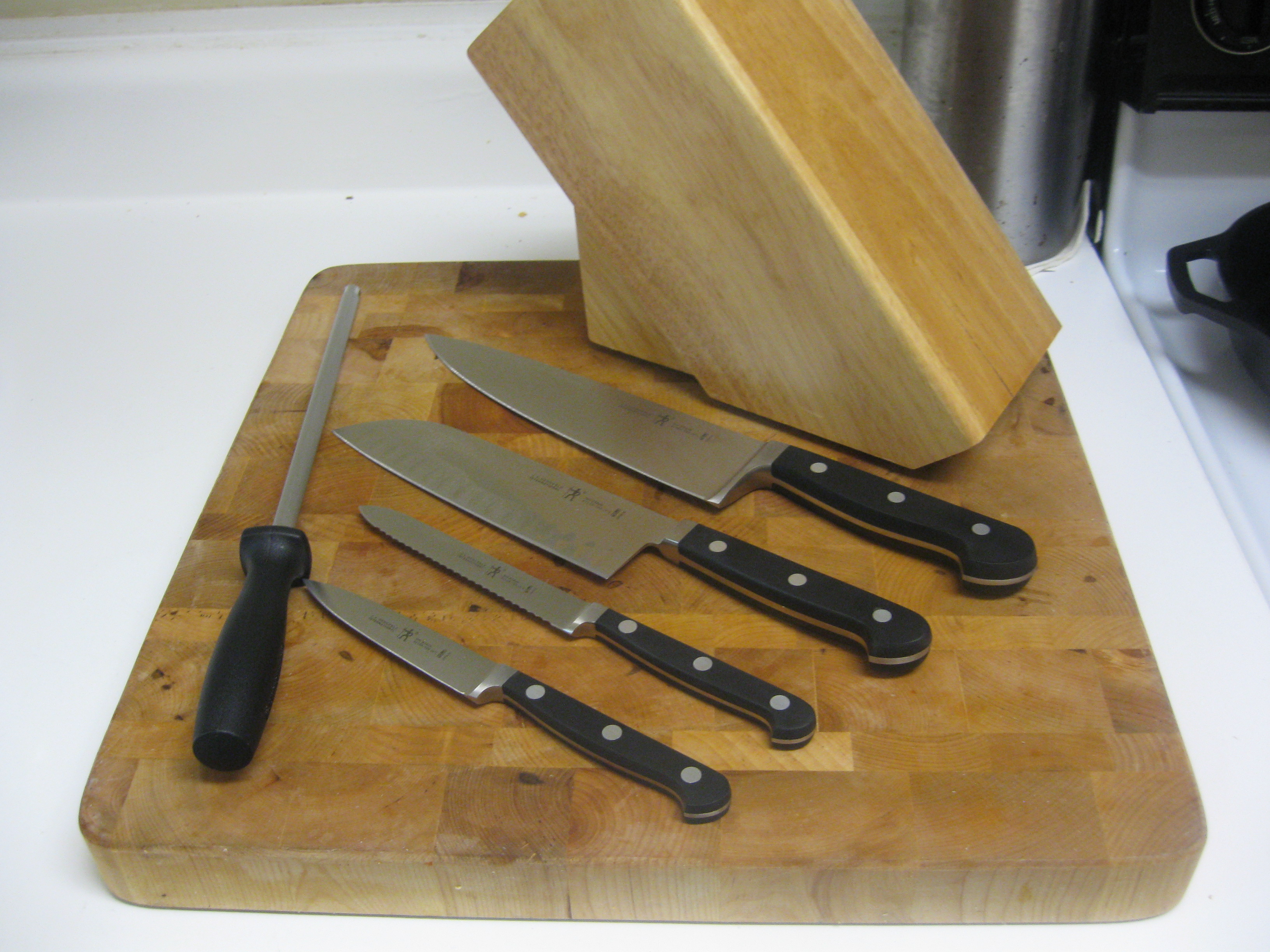 The shelves were almost completely empty today. For the most part, I wasn't impressed with what was left. Until I wandered over to the knives.
We have a knife set that we received as a Christmas gift a couple years ago. Unfortunately, the knives haven't aged well. Some of the handles are even starting to rust. We rarely use them anymore.
Instead, we use a Chef's knife that I bought Tony for Christmas last year. It was a fantastic deal at $25. It's been a great knife, but it's starting to dull. Though it's a wonderful knife for what we paid, Tony has always wanted a high-quality knife set.
Today on the bottom shelf of the locked cabinet, we found a J.A. Henckels knife set marked down from $160 to $100. It was marked down an additional 20% off the liquidated price because it was missing the kitchen shears.
For $80, we got an extremely high-quality knife set including a Chef's knife, paring knife, serrated utility knife, santoku knife, honing steel, and wooden storage block.
We decided a while ago that we wouldn't buy a big knife set. Though our previous set had 10 knives, we never used most of them. Instead, we decided to buy a small set with just the knives we need so we could afford higher quality knives. This new set includes all the knives we use and none of the unnecessary knives that we won't. Because they're top quality they'll last us for years.
The best part? Tony used $50 he received as a birthday gift last month to cover most of the cost. Since we never included that $50 in our regular budget, we're only paying $30 out of our regular budget for these knives. To me, this is the kind of deal that's too good to pass up.
If there's a Linens 'n Things closing in your area, I recommend you check out the deals. Even if you've already been there and you weren't impressed, now might be the time to take advantage of lower prices as they try to clear out the store.
Just make sure you only purchase items you really need. Even an extreme clearance price is too high if you don't need the item.