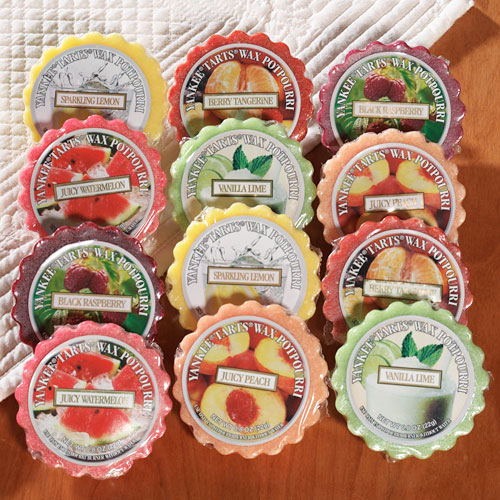 I love to burn candles, especially when I'm hosting visitors or relaxing at home in the evenings. I'm especially partial to Yankee Candle. Unfortunately, anybody who's ever shopped there, or for any candles for that matter, knows they're incredibly overpriced.
The nice thing about Yankee Candles is they do burn for a long time compared to other candles. The problem with investing $20-$30 in a candle is that you're stuck with that scent for as long as it takes to burn the candle.
I like to try different scents and change them up with the seasons, but I certainly don't want to spend the money on several full-sized candles. My solution is burning votives and tarts instead of full-sized candles. Votives and tarts are regularly priced at $1.99 each, but I never pay full price. I stock up during seasonal clearance sales or by using coupons. If you register online, you'll frequently receive coupons and other offers from them by email. I think the first one they send is $10 off a purchase of $25.
You would think that a larger candle would be more economical than several tarts or votives, but they actually cost the same amount per hour of fragrance. The largest jar candles cost $25 for 150 hours of fragrance. That's about 17 cents an hour. Tarts provide about 12 hours of fragrance, and regularly cost $1.99 each, which also comes to 17 cents an hour. At the same price per hour, you can get a wide variety of scents.
Votive candles don't require any additional investment to use them; as long as you have a votive candle holder, you can burn them.
I prefer tarts because the scent is stronger, and they burn cleaner than candles. They require an initial investment of the tart burner, though. If you buy them in the store, you'll pay $12-$20 for a tart burner. I've bought generic knock-off burners at Bed, Bath, and Beyond for as little as $2.99. Unless you buy an electric burner, they also require tea lights to melt the tarts. I usually pay $2.99 for 100 tea lights, and because I only burn candles on certain evenings and special occasions, they last me months.
For me, buying tarts and votives is like buying samples. When I find a scent that I particularly love, I might consider investing in a full-sized candle. Maybe. But most of the time, I'm content to burn a wide variety of tarts.
Right now through Sept. 21 at YankeeCandle.com you can buy tarts and votives for $1 each – 50% off the original price. Just use the coupon code XF809B2. Unfortunately, this deal is only worthwhile if you're really planning on stocking up, because they charge a flat rate of $6 to ship orders under $100.
I received a printable coupon for $1 tarts by email for in-store use, but I can't find it on the site. If you receive emails from Yankee Candle, check your inbox to see if they sent you a printable!