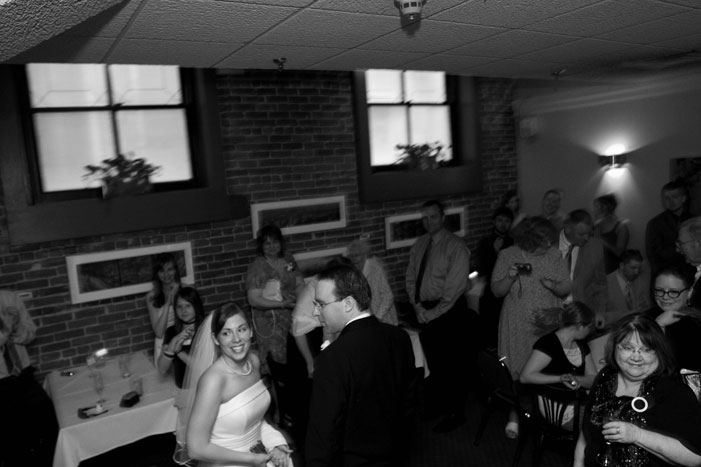 In the past two Wedding Wednesday posts, I discussed getting started on the right track and planning a stunning ceremony on a budget. This week I'm sharing some tips for an elegant reception without spending a fortune.
The reception is usually the most expensive part of any wedding. With catering, entertainment, and venue costs, a typical reception can cost as much as $20,000. My total budget was only $5,000 for the whole wedding, so obviously I had to get a little creative.
The reception is your only opportunity all day to spend time with your guests and thank them for joining you at the wedding, so I wanted to find a balance between frugality and elegance. I didn't want a wild and crazy party; I wanted a simple, intimate affair where I could spend some quality time with my guests.
Here are some tips for finding that balance yourself:
Look into unconventional reception venues.
I called many places in my rush to book a reception venue before we moved. I was shocked at the prices. Most of them charged a facility fee of $500-$2000 for the space. They also required a minimum catering bill of $1000-$2000, which wasn't tough to reach with catering packages that started at $20 per person. Yikes. I did the math, and even for my small guest list, I was looking at a minimum of $3,000 for the food and venue alone. That wasn't going to work on my $5,000 budget.
Out of curiosity, I called a classy little restaurant and art gallery where Tony and I used to eat Sunday brunch. With a gourmet menu and table linens even for brunch, I was pretty sure it would be out of our price range. To my surprise, it was exactly what we wanted.
For $13 per person and no facility charge, we chose 5 of their gourmet appetizers with non-alcoholic beverages included for our guests. We had chicken, steak and cheese quesadillas; artichoke and kalamata spread with fresh bread; mozzarella crostini; Thai-style chicken wings; and chicken sate with peanut sauce. The presentation was gorgeous. The appetizers were replenished throughout the night, so even though we opted to do appetizers instead of a sit-down meal, there was plenty of food.
The best part? There was no down-payment to book the date. This was a huge relief for us since we'd only been engaged for a few weeks and hadn't had time to save the money for the wedding yet. All of our savings was going to the move, so we were relieved to have extra time to get the money together for the reception.
Part of the reason this restaurant was so affordable and elegant is because it was super tiny. The absolute limit was 50 people with no room for dancing, so they probably don't host a lot of weddings there. My number 1 priority was elegance, not a dance floor, so this was perfect for me. Holding your reception at a small restaurant is a sure way to save money if you're willing to sacrifice space for a DJ and a dance floor.
A bonus tip: When you call, don't tell them upfront that it's a wedding. Just tell them you're planning a party for X amount of people. When people hear the word "wedding," they're inclined to charge you more.
Skip the sit-down dinner.
This is becoming an increasingly popular option. Many couples are opting for trendy cocktail parties with champagne and appetizers instead of traditional sit-down dinners. I chose to do it this way not only to save money, but because I liked the idea of spending the whole night mingling and sipping champagne instead of spending part of the reception tied to a table for dinner.
If you choose this route, just be sure to order enough appetizers that your guests won't be starving when the food is gone. We had an unlimited supply, so there was plenty of food.
Don't let the crazy wedding culture pressure you into paying thousands for an open bar.

I never even considered an open bar. It's just too expensive. I also didn't want a bunch of sloppy drunk people killing the elegant mood of my reception. I doubt anyone on my guest list would have been "that guy" anyway, but I wanted a classy affair … not a college kegger.
I was appalled when I read wedding books that said that cash bars are downright tacky. The thought of couples putting themselves into thousands of dollars of debt for liquor just to avoid being deemed "tacky" really upsets me.
Obviously, if an open bar for your guests is a priority for you, then by all means work it into your budget. But I've known too many people who say, "I don't really want an open bar, but I don't want people to think we're tacky."
If you're not really into it, then don't spend the money just because you're worried about what people will think. This is a good rule of thumb for all of your wedding planning. If you spend money just because the etiquette tyrants say it's tacky not to, your wedding will end up costing about $30,000 (the national average).
The fact is nobody that cares about you is coming for the free booze. Sure, people like to have a good time at weddings, but the people who matter most (the only ones who should be there, in my opinion) don't care a bit about what beverages you're serving. Besides, if they're only coming for the free booze, do you really want them there?
The restaurant that hosted our reception had a full list of beers and wines that our guests could order in a cash bar system. We bought enough champagne for all of our guests to have a glass at the toast. If they wanted more alcohol, they picked up their own tab.
It worked out beautifully. There was an extensive wine list sold by the glass or by the bottle, so the tables that wanted wine with dinner just ordered a bottle. The wines were reasonably priced and quite good.
Another option is to do a partial open bar by supplying beer and house wine for your guests. Personally, I'm not that into that idea, either. My honest opinion is that the wine and beer served is usually not very good. Most of the time I'd rather shell out the extra money to get a glass of good wine, but the only option is the cheap house wine. I love cash bars, and I think they work out well for everyone involved.
As for full open liquor bars … well, in my opinion asking your guests to buy their own drinks isn't as tacky as a reception hall full of sloppy drunk people who eventually end up behind the wheel. It's also not as painful as a $5,000 bar tab at the end of the night.
Make your own centerpieces or decorations (if you have them at all) and keep it simple.
We didn't have floral centerpieces at our reception. The restaurant supplied elegant white linens and pretty candles for each table. Roses were the only flowers at the wedding, so I bought some rose-scented votive candles and some fancy candle holders for each table. The room smelled like flowers, but the whole thing only cost about $30 with no labor beyond dropping the candles into the candle holders. Simple.
We skipped additional decoration because our reception venue doubled as an art gallery. Paintings and photographs by local artists adorned the walls, and I thought that was much prettier than any decoration I could come up with.
Be your own DJ.
DJs and bands are fun, but they're also expensive. Because there was no room for dancing at our reception, we didn't care much about the entertainment factor. Music is important to both of us, though, so we knew we wanted a special playlist for the reception.
We carefully combed through our music collections and uploaded a list of meaningful songs onto my iPod. We chose songs that symbolized different times in our lives and our relationship. At the reception, we hooked the iPod up to some speakers and pressed "play." It was a personalized playlist for next to nothing.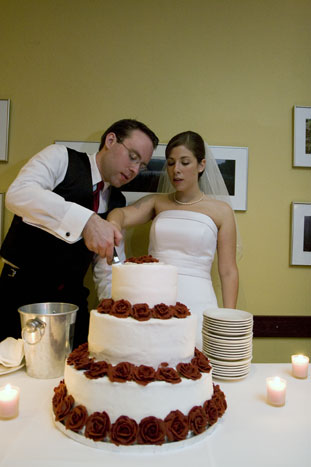 Find a freelance baker for your cake.
When I started calling around for cake prices, I was disheartened. Since practically everyone was traveling a couple hours to come, even us, we knew that nobody would even be able to take home leftover cake. I didn't want to pay hundreds for something that was ultimately going to be wasted.
I wanted a traditional cake, though. So I contacted Kacie at Sense to Save to ask who baked her cake, because she was also married in Bloomington. She recommended a friend of a family member who bakes cakes out of her home. She made us a beautiful cake that was exactly what we wanted for half the price of professional bakeries. She also delivered it and set it up for free.
It's important to get referrals if you're not going with a professional business, because you really never know what you're getting when you hire a freelancer. Kacie was pleased with her work, so I trusted that it would be fine even though I paid her before the wedding and never even met her. If she hadn't been recommended by a friend, I would have requested references so I could speak with other couples who had hired her to bake their cakes.
The grand total for our entire reception including food, champagne, entertainment, decorations, cake, and gratuity was $800. Not too bad for a beautiful evening of food and fun for 50 people.