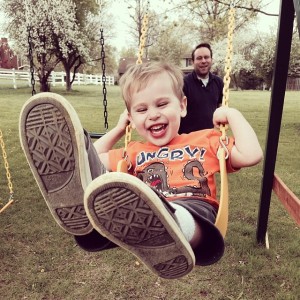 Oh, summer. I have made no secret about the fact that it's not my personal favorite time of year. Southern Indiana turns into a swamp in July. But I am determined to make the most of summer this year, so I've spent some time compiling a list of activities to fill up our schedule without draining my wallet.
Here are some of the ways we'll be keeping busy this summer:
Discounted or free kids' movies
Judah has never been to a theater. He really wasn't ready to sit for that long before his brother was born, and I wasn't about to take a newborn to a movie theater even for a matinee. Many theater chains are offering second-run morning movies during the weekdays in the summer, and it seems like a perfect opportunity to introduce a preschooler to the movie theater. At a buck or two per ticket, the risk of leaving in the middle of the movie with a restless kid isn't so intimidating. Check with your local theater, but here are some nationwide programs:
Kids Bowl Free
Sign up to get two free bowling games per kid, per day all summer long at select bowling centers with this program. Age ranges vary, but some go up to 15 years old. You'll still have to pay for shoe rental and adult games. Find a participating bowling center in your area and get more information at Kids Bowl Free.
Summer reading programs
Reading is free AND educational, and most libraries have a ton of programs and story hours available for free — not to mention thousands of free books and movies available for hours of entertainment for both kids and parents.
You can also participate in these reading programs for fun incentives.
Many bookstores also offer free story hours if you're looking for some air conditioned fun, so be sure to check their events calendars for more information.
Take a hike
Early mornings and evenings are a great time to get out into nature for a walk or a hike before it gets too hot. This hiking trail database lists trails by state to help you find a state park or recreational trail near you. The American Heart Association also has a handy tool for finding paved walking tracks if the great wilderness isn't your thing.
Kids Eat Free deals
If you're going out to eat, you might as well get a free meal for your kids. Money Saving Mom has a great master list of kids eat free deals updated regularly to help you find a deal for most weekdays.
What are you up to with your kids this summer? Share your ideas in the comments!