Photo by .leila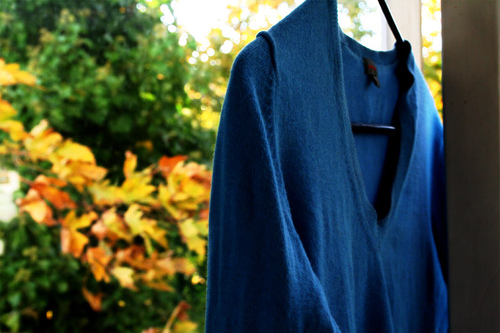 With the temperature finally beginning to fall to a slightly crisp autumn chill, it's time to start reevaluating my cold weather wardrobe.
Shopping for clothes can be tough on a frugal budget, especially when you're building a business-casual office wardrobe that has to consist of more than jeans and t-shirts. With a little extra time and effort, it's possible to build a complete wardrobe that will keep you looking great for work or play without spending a fortune.
1. Think classic, flattering styles, not trends.
Every season has its trends that come and go. Dressing for the trends is a great status symbol, but it's not so great on your budget. Instead, shop for flattering, classic clothing that will never go out of style.
Tailored shirts, comfy but chic fitted sweaters, casual long-sleeved tees, and pants (trousers or jeans) with a slight boot cut are classic styles that are always in fashion.
The best part? You can handpick the fashions that look best on you. Trendy styles are often reserved for certain body types. When you choose your own classic styles, you're guaranteed to look good.
2. Make a few pieces go further by coordinating them into different looks.
I shop for clothing in a few color palettes that are particularly flattering for me. Black is a classic color that looks good on everyone, but you can personalize your wardrobe by picking the color palettes that look best on you.
I shop for greens and browns; blues, blacks, and greys; and other colors that will flatter these palettes. Shopping for clothing within certain color palettes will make it easier to coordinate a lot of different looks with a few nice pieces.
3. Choose tops based on the pants you already own.
Because pants are usually more expensive than tops and less likely to make it to the clearance rack in my size, I choose tops based on what will look best with the pants I own.
I have a couple pairs of flattering jeans, some khaki pants in tan and brown, and dress pants in grey, black, and khaki. I've collected these over a couple seasons, and I tend to shop for tops that will look good with the pants I already own.
4. Don't be afraid to shop off season.
If you're shopping for classic pieces, it doesn't matter when you buy them. I've found most of my best deals at end-of-season clearance sales.
A couple weeks ago I found a nice pair of light khaki pants for $15, more than half off the original price. I also bought some summer tops for $2-$4. I won't be able to wear them until next year, but they'll be brand new when they come out of storage.
It's a lot of fun to find these "new" clothes that I often forget that I bought by the following year. When I unpacked my winter clothes, I found a beautiful cashmere sweater that I bought for $10 last spring and haven't worn yet. What a fun surprise!
5. Take good care of the clothes you have, and avoid clothing that requires expensive cleaning.
Follow care instructions carefully. Treat stains immediately with cold water and stain remover. Consider hang drying instead of machine drying to extend the life of your clothing. I've kept some pieces looking great for several years simply by caring for them properly.
Keep this in mind when selecting clothing, too. If you have to dry clean it every other week to keep it looking nice, it's probably not a great investment.