Let me preface this by saying I've never painted anything in my life. Unless you count finger paints. But honestly, I don't think I used those much either. I always preferred crayons, and so did my mom (for obvious reasons). Since scribbling colored wax on the walls and calling it good isn't an option for our home, I'm nervously venturing into the world of interior paint.
When we bought our house, it had been newly renovated. The paint was fresh, even if it isn't a shade I would pick myself. I don't love it, but I could live with it, so we decided to leave it alone for a little while. As you can see in the photo on the right, most of our main living space is orange. Orange. This has become decidedly more obnoxious the longer we've lived in the house, so it's time for the orange to go.
Part of our motivation comes from the fact that we recently purchased new furniture for the living room — a Pottery Barn Comfort Roll slip-covered sofa, armchair, and ottoman. It should be delivered in the next few weeks. While the Pottery Barn furniture of my dreams is light in color, that obviously would have been a really dumb move with a toddler running around. Instead, we opted for the darkest shade they have — espresso. Here is the couch:
Because the furniture is so dark, we want something light for the walls. But I've lived with off-white walls for most of my life, so I really want some color. The master bedroom is a pleasant light mocha color, so we're leaving it. Judah's room, the guest room, and the guest bathroom are neutral off white, so we're holding off on painting those, too. For now, we're just doing the living room, kitchen, and den.
The kitchen is super orange right now.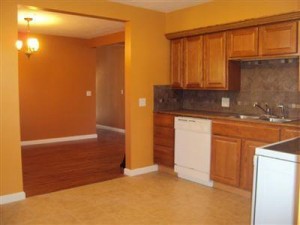 And the den sort of looks orange in this picture, but it's really kind of an orangey pinkish coral color.
Since we have an open floor plan, I want the colors to coordinate with each other. We've pretty much decided on a pale blue in the living room, light yellow in the kitchen, and light green in the den. We're still looking at swatches and trying to make decisions about shade, which seems impossible with all of the options available to us. But I feel pretty good that we have it narrowed down to those three colors.
Basically, I'm looking for tips, shade selections, favorite paint brands — anything you can tell me about interior paint would be much appreciated. I'm hoping we can get this done without screwing up too badly the first time, so I need expert advice from my readers!