Sorry! This contest is now closed.
I realize it's not even Halloween yet, but yes, it's already time to talk about holiday greeting cards.
I just love this promotion, and I'm so excited to be participating in it again this year. Only now there's a twist: I have three promo codes for 25 free custom holiday cards to give away to my readers!
Last year, when Shutterfly offered me the opportunity to write about their new holiday cards in exchange for some free photo cards, I jumped at the offer. I had a baby on the way, and I planned to use our holiday cards as birth announcements. I loved the way they turned out, and the quality was outstanding. Here's the design we chose last year: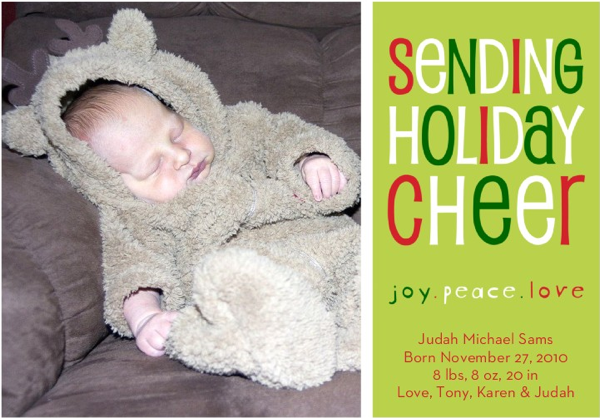 I can't believe he was ever that tiny.
I looked through their selection this year, and they have lots of options for holiday cards, greeting cards, and photo gifts. I can't make any promises obviously, but I was impressed with their shipping last year. I ordered at the beginning of December — the height of holiday card season — and I still received my cards in plenty of time to send them out before Christmas.
So how can you get 25 free photo cards for yourself? Just leave a comment on this post telling me how you plan to use your free cards. You can use them as Christmas cards, holiday cards, birth announcements, everyday greeting cards, or something entirely different. The best part about customized photo cards is you can really make them your own.
I'll randomly choose three winners who will receive promo codes for 25 free cards each. Winners will be selected Thursday night at 9 p.m. and announced Friday morning. Make sure you leave an email address in the space provided when you write your comment so I can contact you if you win. Good luck!
In exchange for this blog post, I'm receiving 50 free holiday greeting cards from Shutterfly. Are you a blogger? Want a chance at 25 free cards this holiday season? Register here.