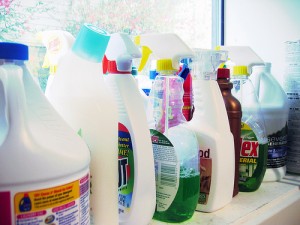 Habit has always been one of my biggest money drains. There are a lot of expensive things that I buy just because I always have, but when I really think about it, I could probably survive without them. I've already broken my habit for a few of them, but I'm still working on others. Here are a few of the things I came up with:
Paper towels
I've been trying to break my paper towel habit for years. They're so expensive, and they're bad for the environment, and yet I can't seem to kick them. Over the past few months, I've tried really hard to decrease my dependence on them. I now use a dish towel to dry my hands, and I use a sponge for most household cleaning. For some messes (like sanitizing the counter after working with raw meat), I still prefer a paper towel that can be thrown away. But I'm saving money by reducing our consumption of this expensive convenience item.
Fabric softener
For years, I spent money on fabric softener sheets without really thinking about it. When we started using cloth diapers, we read that fabric softener residue can coat the washer or dryer and damage diapers, so we kicked the habit cold turkey. I was shocked to discover that I didn't miss fabric softeners. At all. My towels are just as fluffy without them. My laundry may not have an artificial fragrance now, but I don't miss that enough to warrant spending the money on them.
Individual cleaning products
There was a time when the cabinet beneath my sink was stocked with 20 different cleaning solutions. Kitchen cleaner, toilet bowl cleaner, shower cleaner, mopping solution for the floors, and so on. Then I realized it's all basically the same thing. I consolidated my cleaning supplies to a bottle of Lysol and a bottle of bleach. I'd like to kick the chemical habit all together and switch to vinegar, baking soda, and good old fashioned soapy water instead, but I'm working through the rest of these two bottles. I may still keep a bottle of bleach in the garage for really messy jobs, though.
Convenience foods
I used to spend a lot of money on snacks and frozen meals and other convenience foods. These items were one of the first things I dropped from our grocery list when we started living frugally, and I never looked back. They're expensive, unhealthy, and I didn't miss them one bit. We have fun crafting similar foods from scratch, and our grocery budget is much lower without them.
What household items have you learned to live without to save money?