When we started house hunting, one of the main things on our list of "must haves" was that the house needed to be move-in ready. We weren't looking for a fixer-upper. We're not handy enough for that sort of thing, and we knew we'd ultimately underestimate the cost of renovations and get in over our heads.
We lucked out when we found our house. Someone had already done the heavy lifting, and according to our neighbors, his renovation work has made a world of difference. Unfortunately, we don't have any "before" pictures. But we've been told the handcut stone masonry on the front of the house was added in place of worn vinyl siding. Gorgeous dark laminate floors replaced worn carpet throughout the living space. The bedroom carpet is new. The kitchen, bathrooms, and laundry room are outfitted with ceramic tile instead of vinyl flooring. The windows are brand new. The kitchen counters and cabinets are new. The paint colors aren't what I would have picked, but it's fresh paint, so we're making it work for now. In short, the house was gutted and redone from the inside out.
We are blessed in that we don't have any major renovating that we want to do to the interiors. It's all been done for us, and we love it. That doesn't mean I don't have a to-do list, though.
I have a wish list of items I want to makeover our sadly sparse space. I know what I want, and now I'm just saving up the money and keeping my eye open for deals. Here's what I'm looking for.
One of the things we fell in love with in the house is sort of an odd space behind the kitchen and next to the garage. It's a narrow room with a fireplace. It's on the opposite side of the house from the bedrooms, which makes it the ideal spot for us to relax after the baby is asleep. The living room is right in the middle of the house, and the occasional loud commercial has been known to wake the baby. We want to transform the den into a place where we can work, read, and relax without worrying about waking him.
Over the weekend, I found an old sewing table that perfectly fits my sewing machine. It doubles as a laptop desk for me when I close the cover. Tony's desk is back there as well as our record player and a small bookshelf. The last thing I want is a set of matching small but cozy chairs and an ottoman so we'll have a place to relax and read by the fire in the evening.
I'm pretty sure I'm going to pick up these IKEA chairs and ottoman when we get a chance to trek up to Cincinnati. At just $99 each plus $139 for the ottoman, we can afford them now. They're small enough to fit in the space, but look comfy. The ottoman doubles as storage space.
In the kitchen, we have an empty corner that could fit a small table and chairs. What I'd rather do is buy a freestanding cabinet to use as a pantry. Our cabinet space is lacking, and a freestanding shelf unit would give me plenty of space for stockpiling nonperishables.
I envision something like this, but I'm on the lookout for something much cheaper than its nearly $400 price tag.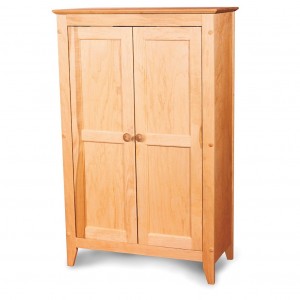 Our kitchen is also lacking counter space. What we lack in cabinet and counter space we more than make up for in floor space, so there's plenty of room for a freestanding kitchen island like this one. I love the butcher's block top and knife storage. I also love that the wheels would allow us to push it out of the way if necessary.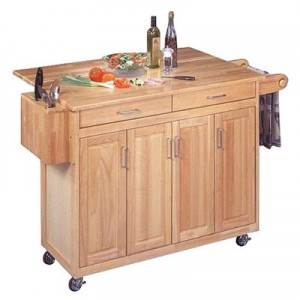 For the living room, I've been dreaming of upgrading from our decades-old secondhand sofa. I am absolutely in love with the classic look of canvas slip covered sofas. The designer ones from Pottery Barn come with a hefty price tag, and I'm hesitant to make that kind of investment with a baby who will be a toddler soon and siblings sure to follow. Luckily, I found this considerably less expensive version at IKEA in a darker color that will mask toddler stains. We're hoping to get the furniture next spring. We'll also get a matching armchair and ottoman. Actually getting them here from Cincinnati will be an ordeal, but I'll save that for another post. Hopefully they'll last us through our young children years and we can get something fancier later.

Finally, for the master bedroom, we desperately need a closet organizing solution. Our house was built in 1970, so there are no fancy modern walk-in closets. For an older house, the closets are a good size, but we need a closet organizing system to make the best use of the space possible. For right now, we're using the closet in the guest room for our clothes, because our master closet doesn't even have a rail.
I'm also on the lookout for cheap, do-it-yourself wall art. Our walls are sadly bare, and with all of these other functional items I want, I don't want to use our budget for expensive wall art. Any brilliant ideas would be much appreciated.
Of course, thus is just my wishlist for the inside. My ideas for the acre of land are endless.
What's on your wishlist?