I remember when I first started shopping for baby things, I was so overwhelmed. There are so many baby products on the market, and sadly, so much of it is totally and completely useless. Almost every expecting mother finds herself asking the question, "What do I really need?"
Aside from the obvious essentials like diapers, clothing, and a car seat, the truth is there isn't much you really need. But almost four months into motherhood, I've discovered a few items that have made my life a whole lot easier. I'd like to share them with you now.
For the record, I'm not being compensated in any way to endorse these products. All of these items I either bought for myself or were gifted to me by generous friends. These reviews are completely unsolicited by the manufacturers, and all opinions are my own.
Baby K'Tan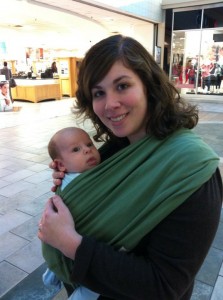 There are about a million different infant carriers and slings. It may seem like all of them work the same way, but the truth is, they don't. Some of them aren't very baby-friendly, and many of them aren't very mom-friendly. They can be difficult to use, constricting for baby, and a lot of moms abandon them early on.
My friend Kacie loved her Baby K'Tan carrier, and generously gifted me with one of my own before Judah was born. The K'Tan is incredibly simple to use compared to other wraps. It takes me about a minute to get Judah into it, and I can do it while sitting in the backseat of the car. There's no complicated wrapping involved. It's made of two loops of fabric, so there aren't yards and yards of excess fabric to get in your way.
He absolutely loves to be carried in it, and he's typically fast asleep within 10 minutes. I don't think either one of us would be a fan of a bulky stroller. The K'Tan keeps him close to me, and it keeps my hands free.
Arms Reach co-sleeper
Before Judah was born, my sister gave me a bedside bassinet that she never used for my nephew. I tried to put Judah in it the first two nights after we came home from the hospital, and it was a nightmare. He hated the thing, and it was too tall for me to comfort him from the bed. I also had to stand up to pick him up every time he woke me to eat. He was using a bili-blanket to treat his jaundice, and keeping him swaddled in it was impossible. I was in and out of bed all night rewrapping the blanket around him.
My mom bought us a Close and Secure Sleeper* that worked great for the first 6 weeks. He was right in bed with us, but I was able to sleep soundly with him in his own space. Even though it was small, fitting it in a queen-sized bed with two adults was a squeeze, so it wasn't very comfortable for us. He also grew out of it quickly.
I read rave reviews about the Arms Reach Co-Sleeper, a bassinet that attaches to the side of the bed. I ordered the Clear Vue mini bassinet model, and it has worked fabulously. If you're breastfeeding, I absolutely recommend it. He sleeps right next to me, but he doesn't take up space in the bed. This particular model has adjustable legs, which allowed us to tilt it a few inches to help with his reflux. Its weight limit is 23 pounds, so it will last longer than the typical bassinet with a 15- or 18-pound limit.
Cloud B Gentle Giraffe sound machine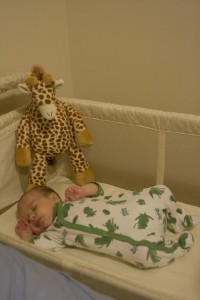 During our endless struggle for better sleep, we discovered that Judah was soothed into sleep by white noise. My sister recommended the Cloud B Sleep Sheep*, but when I discovered there was an adorable giraffe* that matched his nursery's jungle theme, I had to have that one. I named him Geoffrey.
There are four different sounds, including some jungle beats, a waterfall, and a sound that's supposed to mimic mother's heartbeat from the womb. He doesn't really like any of the sounds except for the waterfall, but he loves it. A timer turns it off after 23 or 45 minutes, and a velcro strap attaches it to the side of the bassinet or crib. It comes with us where ever we go to help Judah fall asleep.
Snappi diaper fastener
If you're using prefold cloth diapers, there are all kinds of different ways to fold the diapers to avoid using pins or fasteners. I find that the Snappi fasteners* give me a snugger fit, which is really important in those first months when diapers can be particularly messy. My mom and Tony's grandmother, who both used cloth diapers with pins, marvel at how easy it is for me to fasten Judah's diapers without sticking myself or him.
Bumbo seat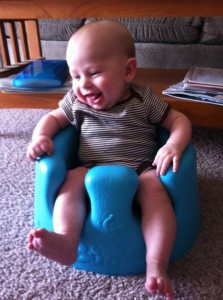 I've only owned this thing for a day, but Judah already loves it. He's been insisting on being held in a seated or standing position for the last few weeks, and it's made it difficult for me to multi-task while holding him. The Bumbo seat* allows him to sit up straight without assistance even though he's a couple months away from doing that on his own, and I've read that it aids in healthy development of the spine and posture.
What baby products have you found helpful?
Disclosure: Asterisks denote affiliate links. If you make a purchase through Amazon using my link, I earn a few cents.