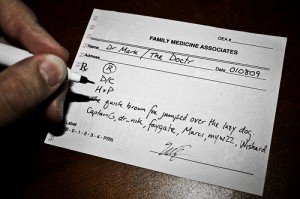 With baby due in the next month, I finally decided to stop living in denial and start dealing with the issue of health insurance for him. Unfortunately, it's not a simple situation. Because I'm currently covered through my former employer's insurance on COBRA and my husband is covered by a private insurance policy, we're trying to figure out the most affordable way to provide coverage for the new baby.
I'm waiting on a quote from my COBRA insurance, but I'm pessimistic about cost. When I first started working at the company, the cost to add only my husband to my insurance plan was over $300. That's why he ended up with a private insurance policy. Not to mention, my COBRA coverage will run out October 2011. I'd prefer that the baby have something more stable.
My husband's policy was due for renewal this month, so we were also able to examine his coverage and make some changes. We were paying about $175 a month for pretty comprehensive coverage with a $2,500 deductible. He's had the policy for three years, and he hasn't had a single claim — fortunately. However, because we have money in savings and most hospitals are willing to work out a payment plan for high medical bills, we decided that we could safely reduce his yearly deductible.
We chose a plan with a $5,000 deductible. Unfortunately, we'll have to pay 100% of his health costs up to the deductible, but beyond that, he will be covered 100%. So our maximum out-of-pocket costs for a year will be $5,000. Preventative care such as routine physicals will be covered 100% with no deductible. This reduced his premium by $100 a month.
If we decide to add the baby to his policy, their combined premium will be $250 — an increase of only $75 a month for our total health insurance costs. Well-baby care will be covered 100% as preventative care. That means all of the baby's check-ups and immunizations will be covered with no out-of-pocket cost, but anything beyond that we'll have to pay up to $5,000. Between our emergency fund and the option of a payment plan for more expensive medical costs, I'm comfortable with carrying a higher deductible. I'm also much more comfortable with a $75 premium increase instead of $300 a month.
This will hopefully be a temporary fix. I've been unable to apply for private coverage since I left my job due to the pregnancy — most private plans don't even offer maternity coverage, let alone coverage for an existing pregnancy. Once the baby is born, I hope to find an affordable private policy for our entire family. I've received some quotes for $300-$400 for comparable coverage for all three of us, but until I can actually apply I won't know any solid numbers.
The application process for private health insurance is long and arduous, so the baby will need to be added to my husband's policy immediately to avoid a lapse in coverage. My fingers are crossed that I'll be approved for a private policy so I can reduce the monthly payment I'm making.
Whew.
If you have a job that provides you with health insurance benefits, don't take it for granted. My husband's employer doesn't provide health insurance, and I'm self-employed, so dealing with health insurance is a complete nightmare. I'm just relieved that we found a solution that will keep all of us covered without costing us a fortune.
If you're currently uninsured, do yourself a favor and look into private coverage. Depending on your medical history, you may qualify for surprisingly affordable coverage. Unfortunately, if you have pre-existing conditions, you may have to wait until health insurance reform takes effect in 2014 to qualify for private coverage. If you've been uninsured for at least 6 months, though, you may qualify for health insurance through your state's high risk pool. You can find more information on your options here.