Last week, the crib and nursery furniture finally arrived. Over the weekend, my mom was kind enough to come for a visit to help Tony and me FINALLY set up the nursery. The baby could be here as soon as a month from now, so I was anxious to get his space set up.
And now, a tour.
This is the dresser where we'll keep the metric TON of clothing we have for him. The items on top of the dresser are favorite stuffed animals from when Tony and I were kids. I carried that teddy bear around with me for YEARS, and unfortunately, he's in need of some repair after several run-ins with my family's Great Dane. Tony's elephant, however, is in pristine condition. I imagine he lovingly spot cleaned it each night before tucking it into bed. As for the airplane, it was built and painted for Tony by his grandfather, and I am in love with it.
To the left of the dresser is the manly diaper bag we chose so Tony won't be emasculated while carrying it for me. To the right, the Boppy pillow I can't wait to use. There's also a giant photo collage frame behind the dresser that I'll eventually do something with.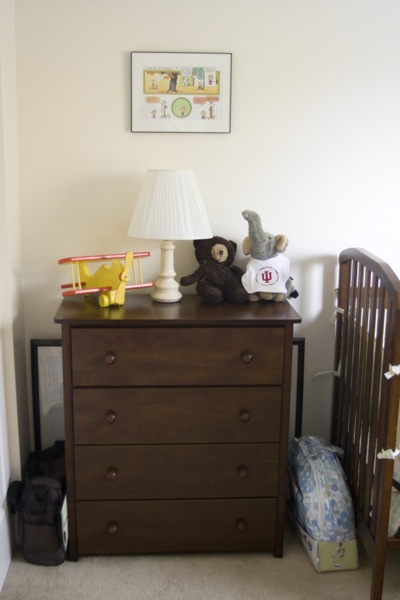 To the right of the dresser is the crib. It's incredibly simple, which I love. No drop sides, of course, and no frills. The bumpers will be removed before the baby actually sleeps in the crib, but I'm enjoying them now while I can.
His bedding (affiliate link) is absolutely adorable, even though I know he won't really be able to use the fluffy comforter.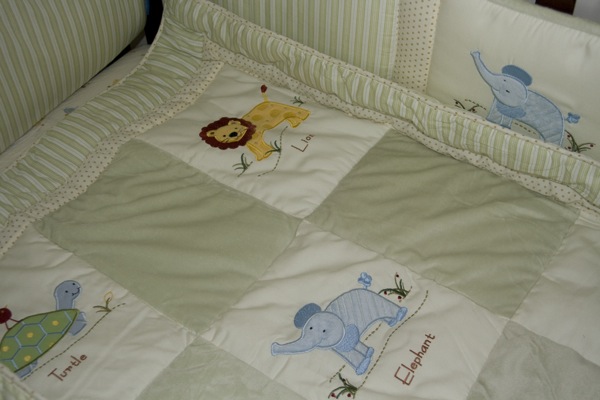 To the right of the crib is the changing table, which I'm using predominantly for diaper storage. Right now the changing pad is holding a bunch of miscellaneous toys and bath things that don't have a place yet. The middle shelf is currently holding cloth diapers, diaper covers, and small items like nail clippers and teething rings and things. The canvas storage bins came from Walmart, and they're so cute and functional. The bottom shelf has our stash of disposable diapers (about a month's worth), which he'll wear for the first few weeks until he's big enough to fit into his cloth diapers.
You can't really see it, but the view from the window is a pretty little creek where several deer live (one of whom has only three legs). I can't wait to see how pretty it is when it's covered in freshly fallen snow.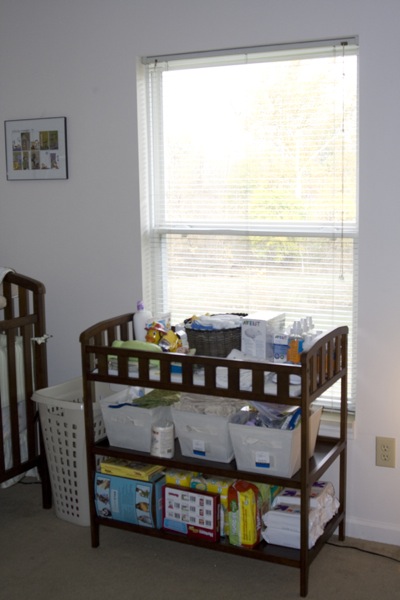 We moved an old bookshelf into the closet for extra shelving. It's currently holding blankets, extra crib bedding, towels, pajamas, and new clothing that need to be washed before he can wear them. Not pictured: three giant boxes of clothing sorted by size from 0-3 months to 12 months from Tony's garage sale-ing grandmother. It's organized so I'll easily be able to find what I need as he grows into new sizes.
Since our apartment is pretty small, we have nowhere else to keep our giant bookshelf. So the baby will be sharing his room with books. This makes his English professor father endlessly happy.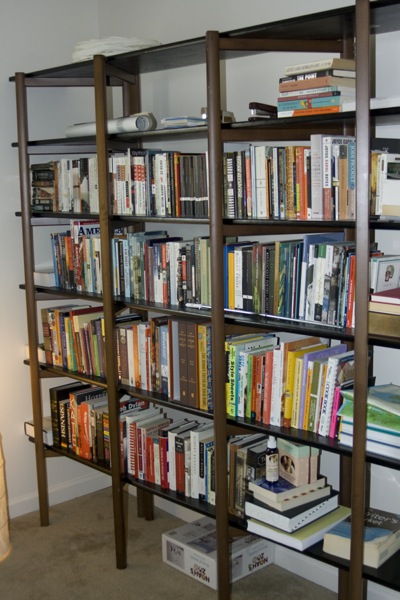 And now my favorite part of the nursery. Tony has always been a huge fan of the "Calvin & Hobbes" comic strip by Bill Watterson. He has several best-of compilation books that he kept from his childhood. I asked him to choose four or five of his favorite Sunday strips (since they're bigger and in full color) to frame for the baby's room. We cut them out of the books, and Tony carefully matted and framed them using $5 frames. The fourth one is the final comic strip in the series. I absolutely love how they turned out.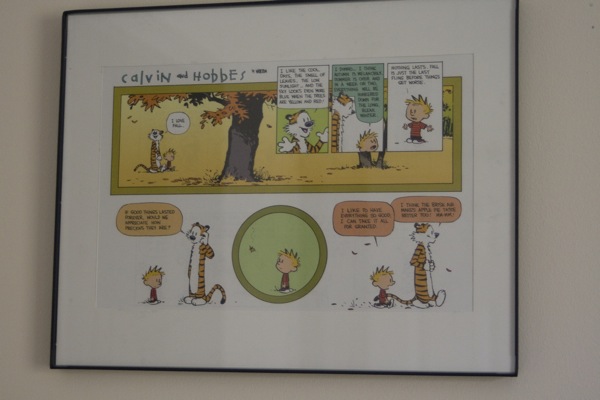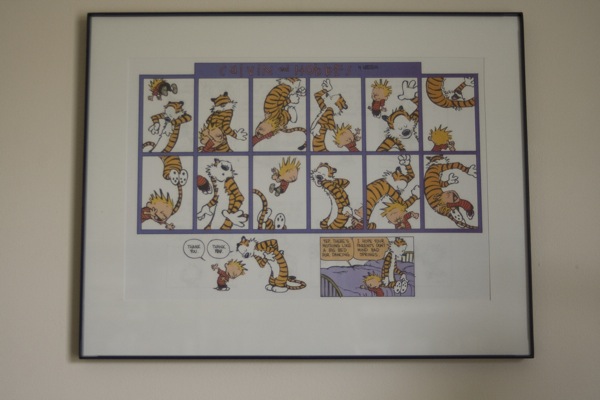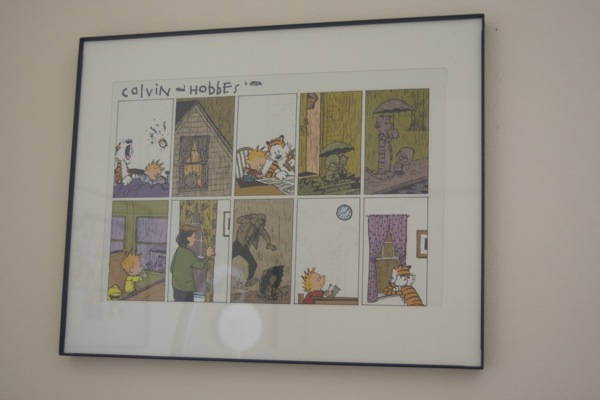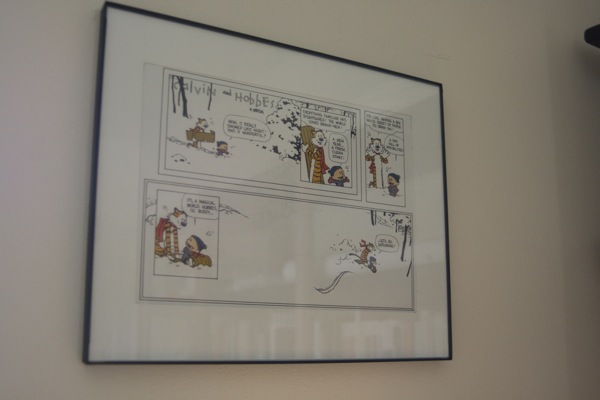 It's such a relief to have everything ready for him. I can't wait to bring him home!