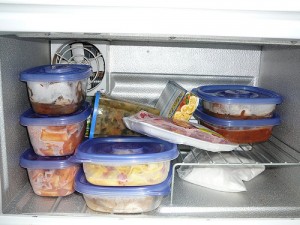 We're down to 65 days until my estimated due date. That means I could be having this baby anywhere from 6 to 11 weeks from now. Since I hope it's more like 7 or 8 weeks, I'm starting to think about how we can make our lives a little easier in those first couple weeks with a baby.
Several of you have suggested that we cook some meals that can be frozen and easily reheated when we're too busy or tired to cook. I think this is a fantastic idea, especially since my husband is the main cook in our house. The baby will likely be coming while Tony is swamped with grading and final exams at the very end of the semester. Because he's a college instructor, he won't be able to take time off right away when the baby is born. He'll have three weeks off for winter break, but that won't begin until December 20.
If this baby comes a little early or right on time like I hope he will, Tony will have a very busy couple of weeks before his break. Between work and our new baby, cooking is likely to fall at the bottom of his list. So I'd like to make things easier on both of us by planning ahead.
Unfortunately, we have very little experience with freezer cooking. Rather than cooking complete meals, I'd prefer to prep meals ahead, freeze the components, and turn them into fresh meals later so it doesn't feel like we're eating leftovers. Here are some of the ideas we've come up with so far:
An enormous batch of homemade pasta sauce. We'll buy various types of pasta, freeze the sauce in one-meal portions, and then reheat a batch of sauce and boil some pasta for a meal.
Lasagna frozen into individual portion sizes.
Quesadilla filling that can be reheated and made into fresh quesadillas.
This list is sorta short, so I need your help. What are your favorite freezer meal recipes? Can you point me toward any good freezer cooking resources? Send me your recipes and links, and I'll be forever in your debt!
Photo by juliehicks