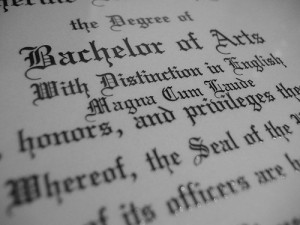 Tony and I have always agreed that a college education is something we want for our children — and it's something that we want to help them obtain. I know this is a controversial subject, so let me begin by saying I'm not up for debating it. It's a priority for us, and that's that.
Traditionally, middle-class students get the shaft when it comes to college funding. I was a very good student, and I worked very hard to qualify for scholarships, but it's a competitive market. The average above-average student qualifies for very little money when it comes to scholarships. I worked two jobs through college, and I still ended up deep in debt by the time I graduated. It's definitely true that I could have made better choices when it came to borrowing money, but the fact remains that I needed some help funding my education. Tony and I want to be able to provide that help for our children.
Much like retirement saving, time is your best friend when it comes to saving for college. I've run some numbers using a few college savings calculators, and frankly, I disagree with their numbers. Our plan is to save enough to pay tuition only at a public university. We will expect our child(ren) to work as much as possible to cover certain living expenses. We also anticipate sending some money to cover part of his living expenses on a month-to-month basis.
As of right now, our budget is too tight to set any hard and fast numbers for monthly savings. But we know that if we start contributing even just a little money each year to a 529 savings plan, it will be much easier to save enough over the next 18 years than if we wait until he's a teenager.
Our philosophy for retirement savings has been similar. We each have a Roth IRA, and we contribute as much as we can each year. Right now, it's not a lot. But the plan is in place, and as our income increases, so will our savings.
Our plan is to open a 529 savings plan shortly after our baby is born. Our retirement savings will remain our priority, but we want to have the savings account in place to encourage us to put money away when we can. We'll also let grandparents and other loved ones know that the savings account exists. We don't expect anyone else to contribute to it, but we want them to know that especially in the baby's first few years of life, if they want to give him gifts, we'd prefer they contribute to his college savings rather than spoiling him with tons of toys.
By starting early, we'll have years of interest on our side. We'll also have more time, which means lower monthly contributions will add up over the years. Even just $50 a month at 8% interest will net us close to $25,000 by the time our son starts college. That wouldn't be enough to cover his tuition for 4 years, but that's $25,000 less that he'd have to borrow, which makes a huge difference. We're obviously hoping our income and budget will change through the years, though, and we'll eventually be able to save more every month.
Beginning early will give us a head start. It will also give well-meaning family members who want to help with his education a place to put a few bucks every year if they want.
Are you saving for your child's education? What's your plan?