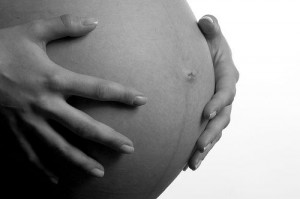 Vivid dreams are a side effect of pregnancy for which I wasn't prepared. Most of the time, they're wacky (like the other night when I dreamed that Michael Phelps towed my sinking cruise ship to shore, rescuing everyone on board). But last night, it was bittersweet.
In the dream, it was fall. Crisp, cool air replaced the stagnant, wet heat outside right now. Tony and I were going on a trip somewhere exciting. It was sunny and beautiful, and I felt well. I felt light and cheery and good in a way that my body hasn't felt for, oh, about 5 months now.
When I woke up, it was a bitter reminder of the stark contrast between how my body feels now, and how I used to feel when my biggest complaint in the morning was that I didn't feel like going to the gym. What I wouldn't give to put in 3 miles on a treadmill now, but I feel too heavy, too sick, too exhausted all. the. time.
It's not that nobody warned me. I witnessed my sisters as they endured 9+ months of discomfort during pregnancy. I knew I'd likely face the same fate. But I don't think it's possible to fully understand what will happen to you during pregnancy until you've experienced it yourself. I know I wasn't prepared.
And yes, I know, I know, it's all worth it. Unfortunately, when you're pregnant for the first time, there's no real frame of reference. Like pregnancy, parenthood is something that's impossible to understand or grasp until you experience it. So for now, I'm feeling a whole lot of discomfort with only a vague understanding of what awaits at the finish line.
I am completely aware of how lucky I am. That's why I've tried really hard to keep my complaining to myself. We decided we'd like to have a baby, and a month later I was pregnant. That alone is a feat considering how many people struggle for months and even years with infertility. So far, the baby is healthy and thriving despite my discomfort. I quit my full-time job pretty early in the pregnancy to begin a freelance career, so I won't have to worry about returning to an office after the baby is born. And Tony is about as patient and forgiving as a husband can be, even when I don't deserve it (especially when I don't deserve it). He cooks and cleans and takes care of me on the days when I'm too sick to get up (and yes, I'm still having those days, even at 22 weeks).
I'm fully aware that I'm lucky, which is why I choose not to write most days instead of writing what I'm feeling. But the truth is, I struggle to feel grateful. I know I have much to be thankful for, but I'm human, and it's hard to feel grateful after 5 months of what feels like stomach flu. It's hard to feel grateful as I swell to twice my previous size. It's hard to feel grateful as I struggle to sleep at night and concentrate during the day. I know it's not supposed to be easy, but somehow the inability to feel grateful is the hardest part.
And then I feel guilty about it. I remind myself of how lucky I am, and I feel guilty because it's so hard for me to appreciate it right now. It's a vicious cycle, and I suspect that it will continue at least until the baby is born (and likely beyond).
Despite the guilt, I have to admit — I hate being pregnant. I know how sad this will seem to the many women who enjoy the whole process, but I am not one of them. It has been a roller coaster ride with fewer ups than downs, and although I'm barely halfway through it, I'm already counting down the days until it's over.
I am miserable most of the time. I don't feel like myself. I snap at my husband over the stupidest things. I shout at my dog for annoying me when all he's trying to do is comfort me the only way he knows how. Lifting myself from bed in the morning feels like running a marathon; I feel so heavy, and my muscles and joints are so stiff. I'm constantly overheated. I'm depressed. And then there's the continued nausea and constant pain, of course.
I can't help but feel like I'm having some sort of allergic reaction to my unborn child. Thankfully, he seems to be doing fine, despite the fact that my body is rejecting his presence so violently.
So. Why don't you tell me your favorite thing about having kids? Because I sure could use a reminder of why this will all be worth it in the end.