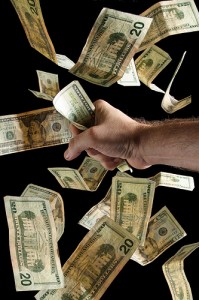 Update: I just wanted to clarify something. We are currently repaying our student loan debt slowly but surely. Our loans are not in forbearance. We just aren't focusing our efforts solely on debt repayment. We're splitting our extra income between debt repayment and savings.
In January 2009, we paid off our credit card debt. Compared to some of the debt horror stories you hear, our amount was relatively low — it was about $4,000 left over from college overspending and car repairs. We paid it off in just over a year while Tony was a graduate student and I was working in retail. Money was very tight at the time, so we've always been proud that we were not only able to avoid increasing out debt at that time, but we were able to pay it off.
We're not debt-free, though. Not even close. Between the two of us, we still have a huge chunk of student loan debt — to the tune of $50,000.
For the past year or so, we've continued to pay minimum payments on my loans. We haven't even begun paying Tony's debt back because his loans are deferred until he graduates.
So here's my confession: for right now, paying off our student loan debt is not our #1 priority. And it probably won't be for another 5 years.
When we were working to pay off our credit card debt, we weren't using every penny of our extra income for debt-repayment. We knew we had a move coming up in a year, and we wanted to build an emergency fund because we wanted to start a family. We made the decision to split our income between savings and debt repayment.
Right after we finished paying off our credit card debt, our plan was to use that money to pay off our student loans. But when you're living on a small income, there just isn't a lot of money to go around. We realized that in order to reach our savings goals, we'd need to divert a lot more money into savings.
Then we started talking about Europe. Believe me, I know that in the frugal community, saving for a vacation like that with as much debt as we have is a no-no. But you know what? We didn't want to wait until we were debt-free to live our lives. Sure, we could put every penny toward debt and really work to pay down those student loans right now. Even then, we'd be well into our 30s before they were paid off. By then we'll have children, maybe even a house, and a lot more financial responsibility. We'll hopefully have more income, too.
Does debt-repayment mean putting everything else on hold when you're young? In my opinion, no. For some people, the rush they get from sending another huge payment to pay off debt is enough to keep them motivated. Not me. If we were using every penny to pay off debt right now, it would be so depressing for me.
Unless we magically double our income overnight, it's going to take us years to pay off this debt. For years and years, our only focus would be debt repayment. I'm not going to wait to do and see the things I want to see. I'm not going to wait to start a family or save for a house. That debt is going to be there for a long time. I can't wait that long to live my life.
That doesn't mean we don't have a plan, though. There are just a couple things that are going to come first. When we get settled in Indiana, we'll be in survival mode until Tony gets settled in a job. Then we'll replenish our emergency fund. Then we'll start saving for a house. Once we're moved into a house, it will finally be time for us to put all of our extra money toward those debts.
This method isn't for everyone. I'm sure many of you think it's crazy for us to leave that debt alone for the next 5 years or so, accruing interest. When it's time to pay it off, though, I plan to do it in about 5 years. Our plan is to buy a very modest starter home, which will help us put more money toward debt. It will be tough, but at least I'll know that I'm not missing out on experiences in order to do it.
Photo by sgw