(I was still catching up from our trip last week, and then I came down with the worst head cold I've had in a while. My weekend flew by in a cold medicine induced haze.
So I've decided to take it easy on myself this week by doing something unconventional. Each day, I'll be telling you about one of my favorite things. If you have a blog, I'd love to read about the things you own that bring you happiness. Even if you don't have a blog, you can share yours in the comments. I could use a little cheering up to get me through this cold.)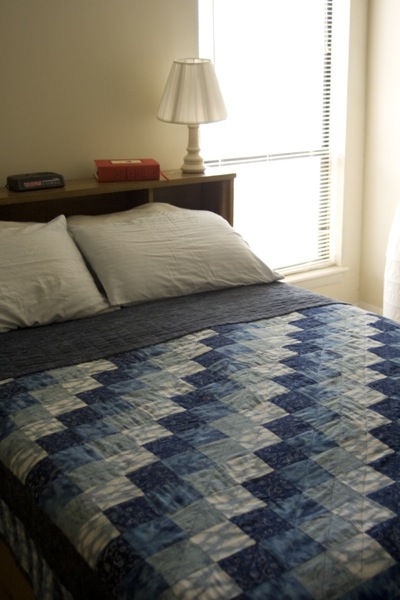 My mom has been a quilter for as long as I can remember. When I was a kid, I was fascinated with her work. I remember watching her stitch together beautiful patterns from tiny pieces of fabric and wishing I could do the same.
When I was 15 years old, I asked her to teach me to quilt. I carefully chose the fabrics for this quilt. Since it was my first, my mom recommended that I go with simple squares instead of an intricate pattern. I spent a summer cutting pieces and sewing together the quilt top.
Then I turned 16, and I finally got my driver's license. I had reached the age where I was rarely home, and my finished quilt top ended up in a box with my mom's unfinished quilting projects.
My mom particularly loved this quilt top, and she wanted to see it completed, but quilting wasn't really a top priority for me as I finished high school and college. So imagine my surprise when my mom brought this finished quilt to my wedding rehearsal dinner. She had turned my quilt top into a beautiful finished quilt as a surprise wedding gift.
I love that my mom and I made this quilt together almost as much as I love its beautiful, soothing blue colors. Now that I'm a little older, I've taken up quilting myself, but this will always be my favorite because it was my first.