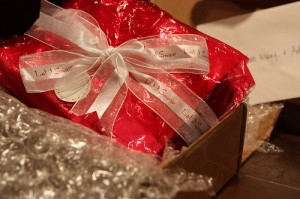 This year, Tony's sister's fiance is spending the holidays in Iraq. We really wanted to send him some things to make his holiday a little brighter, so we put together a care package.
This was my first care package for a soldier, so I put a lot of thought into what to send.
Here are some of the things I learned while putting it together.
Make it personal
There are tons of places online with great care package ideas, but it's best to keep your soldier in mind when creating yours. Everyone is different, and the care package you send should include personal touches to let him know you're thinking about him.
For instance, my future brother-in-law doesn't care too much for sweets, and the microwave in his room recently bit the dust. So he specifically requested food and snacks that don't need to be cooked to be enjoyed. His care package includes lots of his favorite snack foods like chips, fruit snacks, and trail mix.
Check with other friends and family to avoid overlap.
It's likely that other people in your soldier's life are putting together care packages for him, too. Check with them to make sure he's getting a wide variety of treats and gifts.
Include a touch of home
Is there a certain baked good he misses? Or a local treat he can't get overseas? Pack something special that will give him a little piece of home for the holidays.
Add some cheer
It may not feel too much like Christmas in Iraq, but he might be craving a taste of the holidays. Send some hot chocolate, festive candy, and maybe a Christmas movie to keep his spirits up.
Don't forget the necessities
Treats are your top priority in a holiday care package, but it might be nice to send some necessities, too. Soap, shampoo, toothpaste and other toiletries are a nice addition to a box of treats.
Do you have any care package ideas to share?