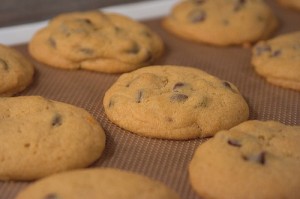 I stuck to my new healthy eating plan faithfully last week. I diligently completed my 5K training schedule every day. I even lost 2 pounds.
But yesterday was just one of those days. Work was a struggle. I was grouchy. And as much as I wish I could be one of those people who sweats out my stress at the gym (most of the time I am), the last thing I wanted was to work out. All I wanted was my slippers and a chocolate chip cookie.
So I came home, put on my slippers, and sent my wonderful husband out in search of ready-to-bake chocolate chip cookies. And they were absolutely worth the calories.
Sometimes you just have to say eff it and give in to temptation. For me, it was a chocolate chip cookie (or two). For you it may be a restaurant meal or a night at the movies. It's not possible to be on your best behavior all the time. But it's important to set limits even for the times you fall off the wagon.
Sure, what I wanted was to drown my sorrows in a whole box of cookies, and I knew I was in danger of doing just that. That's why I went with the ready-to-bake instead of a whole box of cookies. I knew I could bake the two that I wanted, refrigerate the rest, and limit myself to a reasonable amount.
The same is true for your budget. When you feel like your head might explode if you don't indulge, find a way to do it without causing too much damage to your goals — and your accomplishments.
Take a night off, do something fun for yourself. Just know that there are consequences. I'll pay for my cookies and my missed work out today. I'll have to be extra careful with my diet and put in some extra time at the gym this evening. If you take a night off from your budget, be prepared to make up for it for the rest of the month by being extra frugal.
It's also important to make sure your occasional indulgences don't become the norm. After all, being good most of the time makes giving into temptation every once in a while that much sweeter.