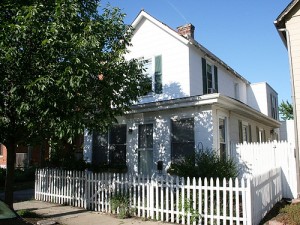 We've been doing some big planning again for the future. That's always dangerous. :) But lately, we've been talking about a timeline for becoming homeowners.
The closer Tony gets to finishing school (about 17 months now), the more confident we feel that we want to live near family. We're pretty set on starting our own family shortly after Tony finds a teaching job, and we don't want to raise our kids more than a couple hours away from their grandparents, aunts and uncles.
Now that we're pretty sure we know where we want to settle down, we've been bitten by the homeowner bug. We want a backyard where the dog can run, and we want more space of our own for our family. Our original plan was to rent a house when we move. Then I started looking at the cost of rent for even small houses.
I don't know how much the market will change in the next couple years, but as of right now with our stellar credit history and low housing costs in the Midwest, a small, older home in Indiana would likely yield a lower mortgage payment than we'd pay to rent a comparable home, especially if we can save a chunk of change for a down payment. It just doesn't make sense to me for us to pay more in rent than we would if we owned a home, especially since we don't want to move again for a long time. We've spent the last 6 years of our lives moving way too frequently. We're ready to just settle down and stay put.
The only problem is that we won't be anywhere near paying off our student loan debt. In the past I had lofty dreams about paying down our student loans before even thinking about buying a home. But now I'm just not so sure.
Currently, our only remaining debt is $60,000 in student loans. It's overwhelming, and when I think about trying to pay that down, save for a house, and survive all on one teacher's salary, it feels impossible.
The plan was to move into an apartment, pay down that debt, and then start saving for a down payment for a home after that. I'm just concerned that on that plan we'll be 35 before we can start saving for a home.
So we've been talking about an alternative plan: continuing to save as much money as we can, renting a tiny apartment for a year or so after we move to save even more money for a down payment, and then buying a home. Then we'll work toward paying off student loan debt from there.
Even the tiniest apartment will be doable for just a year while we're working toward the goal of home ownership. The longest amount of time we'd have to live there with a baby would be 3 months (and that's under the unlikely circumstance that I got pregnant immediately after we start trying). However, I wouldn't want to be cramped like that for the long term while we paid off student loan debt and saved for a house for 5+ years.
Right now we're paying a little more than the minimum amount on the student loan debt, and that's what we'd continue to pay while saving for a house. Now that we're out of credit card debt, I feel okay about paying off the student loan debt slowly while we're getting started. It's going to take us so much time to pay off, I just don't want to wait years to start working toward other goals.
What do you think?