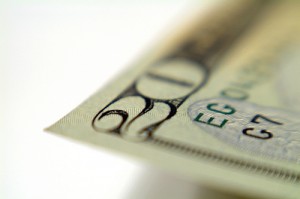 I can't believe it's been a whole month since we began our cash budget. It has flown by so quickly, but I guess that's a good thing.
As I wrote yesterday, the longer we go, the harder it gets to keep it up. A lot of our initial excitement and motivation has faded. For the first couple of weeks we had plenty of money left over. For the last two weeks, we've spent every penny of our weekly $90 allowance for groceries, household expenses, and entertainment (sometimes a little more).
But there have been some definite benefits to our cash budget. I've lost 7 pounds, and I think Tony's lost a few, too, though he doesn't know what he weighed in the beginning. We've also been having a lot of fun rediscovering frugal activities and trying new meals.
I'm surprised at how well we abstained from using our debit cards. One week we forgot to pick up romaine for the salads I bring to work for lunch. We ended up debiting a little under $4 for 6 heads of romaine at Costco. That's the only debit charge that's come out of our main bank account.
I'd be lying if I said that's the only "extra spending" we've done. I started the summer with about $50 in an ING checking account (including a $25 bonus they sent me for opening the account). I didn't count this with our summer money, because I was counting on some slip ups.
A few dollars here and there have been charged on the card for expenses that we didn't plan for in the budget (a little under $20 total). I'm leaving the $30 left in the account out of this month's budget, too, so it'll be there if we need a little help making it through the week. Yes, it's technically cheating because it is a debit card, but I knew we weren't going to be perfect. Planning ahead for errors has made it easier to manage.
The good news is we're getting better. Last week we trimmed our grocery budget down by $10 to avoid going over budget. Motivation is harder to come by, but practice is making us better at cash budgeting without going over.
As I look at our success, I'm feeling a renewed motivation. I'm going to need it to get through the next two months!